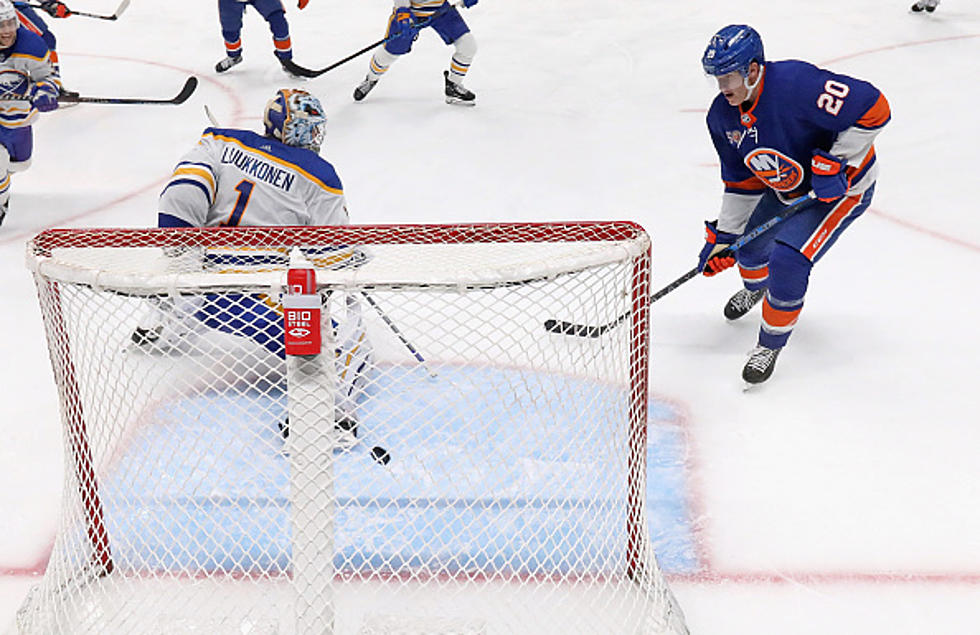 Don Granato Has Words for NHL About "Kick" Goal That Cost Buffalo
Getty Images
Things are not looking nearly as good in the NHL standings for the Buffalo Sabres, as they did just a week ago.
Buffalo has lost three of their last four and now sit five points out of the final wild card playoff spot, which is occupied by the Pittsburgh Penguins. The New York Islanders occupy the other wild card spot, six points ahead of the Sabres, with Buffalo still having three games in hand.
The Sabres and Islanders played on Tuesday night and it was a gut-wrenching loss for Buffalo in the third period.
With the game tied 2-2, the Islanders scored the go-ahead goal by former Sabre, Hudson Fasching.
However, the official near the net immediately waved the goal off, saying Fasching kicked the puck into the net -- "distinct kicking motion."
The play was reviewed and what was shocking to nearly every Sabres fan, the play was overturned to a good goal, which had many Buffalonians irate.
The Sabres lost and because it was a four-point swing against a team they're directly chasing in the Eastern Conference playoff race, it may have significant postseason implications.
Sabres head coach Don Granato spoke about the Fasching goal on Thursday and he said he has not gotten an explanation by the NHL or officials for why the play was overturned, since not only did it look like Fasching kick the puck into the net, there wouldn't have been enough evidence to overturn the call on the ice, which was "no goal."
Granato also says that he coached Fasching for two years at the national development team and admits Fasching was one of the best soccer players in the State of Minnesota at the time...which sounds like Granato is saying Fasching clearly kicked that puck into the net on Tuesday night.
One thing you discover quickly about Granato is that he is candid and honest with comments to the media -- he doesn't give the media the token, standard phrase so many coaches do.
Buffalo Sabres Goalie Masks
Take a look at some amazing Goalie Masks in Buffalo Sabres history.
Top 10 Most Underrated Buffalo Sabres of All-Time
22 Famous Buffalo Sports Phrases Every Die-Hard Bills and Sabres Fan Knows
Being a sports fan in Buffalo is sometimes like knowing a different language. Here are 22 of our favorite Buffalo sports phrases you already know if you're a huge fan! And if you're new here, here's how to catch up.