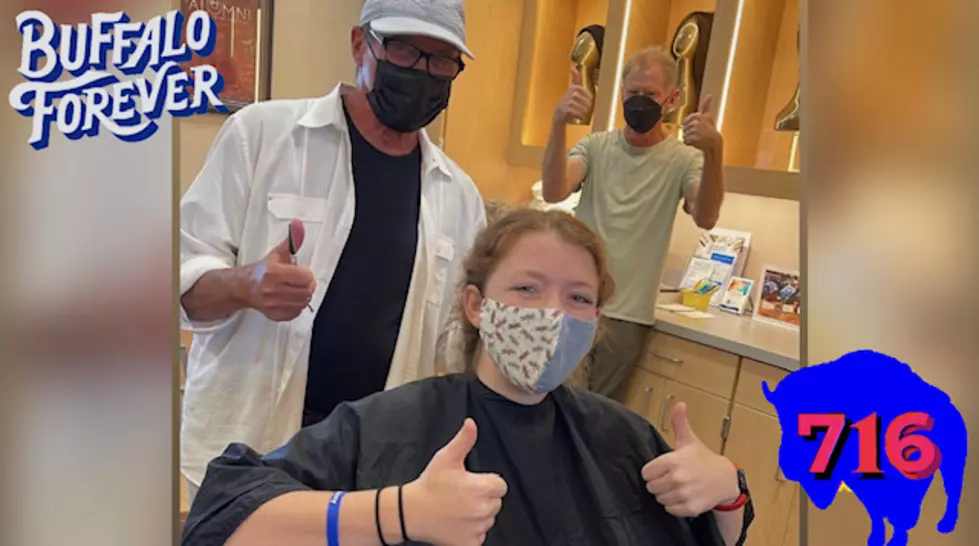 8 Alternative Ways To Give Back on 716 Day
Photo Credit: VideoLeap, Roswell Park
There are so many great local organizations, charities, and non-profits in Western New York that it can be difficult to choose which one you donate to for #716Day.
With a title like the ''City of Good Neighbors,'' you already know that the residents of Buffalo love to help each other out and our community as much as we can.
For 716 Day, many people are donating to Give716.org, which supports over 500 local charities! 
You can designate your donation to a specific charity, or donate a lump sum to be evenly distributed amongst all of them.
However, for some Western New Yorkers, it may be a challenge for them at this time to donate a monetary amount for 716 Day, but we have good news for you.
There are plenty of ways to give back to the 716 without breaking the bank.
I know a lot of young people want to help out their hometown and make a difference in their community, but they just don't know how. 
Luckily, there are 8 other ways to give back to Western New York this year.
You could…
Do something that people can rally behind. 

In Buffalo, you can always find 5k or 10k races that give back to the community through non-profits or organizations, or you can start one yourself!

For the Buffalo marathon, one runner in Western New York decided to raise money for St. Jude, and you can read more about that here. ​​

Donate blood.

The American Red Cross is always looking for donors…and guess what? Every time you donate blood, you are saving (on average)

3 lives!

Donate your animal supplies (like cat food, litter, blankets)

Many of the local shelters will take donations of animal supplies because they cannot always afford new toys for their animals. One event that happens yearly to raise awareness for this cause is "Tats for Cats."

Tats for Cats,

hosted by Millennium in West Seneca, is an event where people can come in and get a tattoo, but all of the funds raised through these tattoos end up going back to one of the local shelters in the area so they are able to replenish those supplies. 

Donate your skills.

If you can paint, paint something that can be sold with all the proceeds going to a local charity. Or if you are a good leader, volunteer at some of the summer camps this year. By the way, speaking of volunteering…

Volunteer

All of these organizations are always looking for volunteers to keep them going. If you can't afford to donate money at this time, try to donate your time instead! 

Become an organ donor.

It's something that anyone can do, but it could end up saving a fellow Western New Yorker's life, even after you are gone. 

Donate your clothes. 

There are donation bins for clothes scattered across Western New York, and it's a great way to not only clean out your closet but also help others in need. Goodwill WNY always makes their clothing donations look trendy (you can see more of Goodwill WNY here) and you can also donate to some of the shelters around the area. The Haven House, a women's shelter, is one shelter that accepts clothing donations to help women who are recovering from a previous abusive relationship, and it helps give those ladies a fresh start. 

Donate your hair. 

Donating your hair can help one of the kids fighting cancer at Roswell feel more confident in themselves, and one of the easiest ways to do this is by teaming up with Bald for Bucks, which originated right here in Western New York back in 2002. Since then, Bald for Bucks has helped the community raise more than $6 million dollars for research that could change the future of cancer, and a majority of those funds go right back into our community to help those who are fighting cancer at Roswell Park Comprehensive Cancer Center, and there's an easy way to do that.
This year, I chose to team up with Bald for Bucks to raise money for Roswell Park Comprehensive Cancer Center. Before I donated my hair, I raised as much money as I could to help the kids at Roswell Park, and together, we raised $1,185. 
Not only do those donations go towards helping those kids with their cancer treatment, but it also goes into things that help the kids remember to just be kids, like the Elevate Salon. 
It is brand new at Roswell, and it is solely for those receiving treatment. When a cancer patient goes to Elevate Salon, located inside the hospital, each of them receive one complimentary wig of their choice, styled to what they prefer. 
You can see a video tour below of the all-new Elevate Salon for those receiving treatment at Roswell Park. 

If you are thinking about donating your hair, it's not too late. Whether it's 716 Day or a few months after, they are always looking for hair donations. 
You can find out other ways to be part of 716 Day here. 
Country Stars Put on St. Jude's 'Love Music, Stop Cancer' Tees
Kane Brown, Gabby Barrett, Carrie Underwood and more stars show off their 'Love Music, Stop Cancer' shirts to support St. Jude Children's Research Hospital.
Places In The 716 Promising Mental Health Help When You Need It
These Country Stars Have Battled Cancer
So many of country music's biggest stars have battled cancer. Sadly some lost that battle. Here is a list of some of the country artists who've fought the disease.