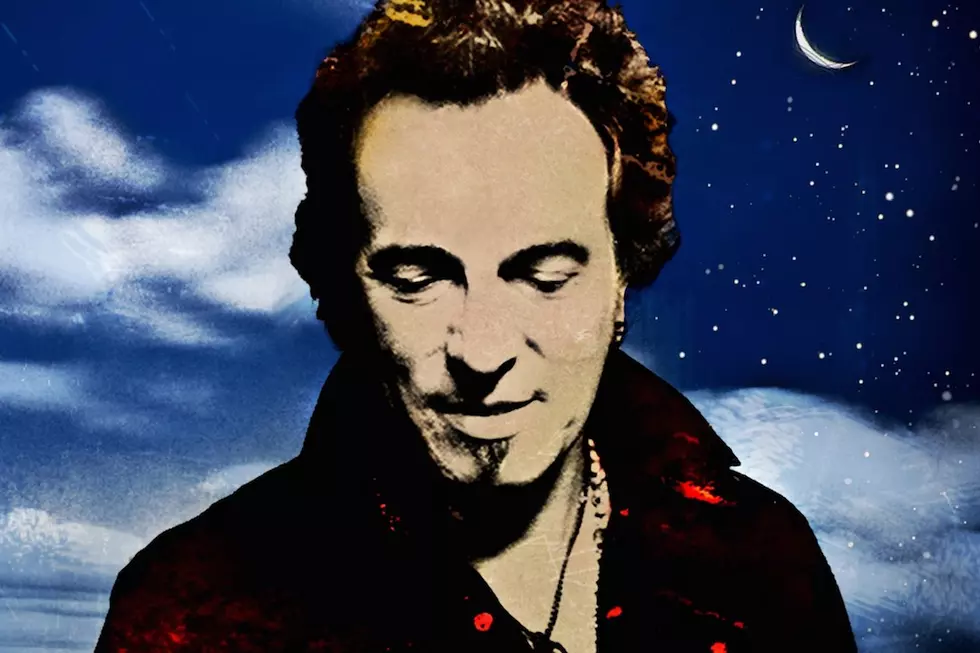 How Bruce Springsteen Stumbled on 'Working on a Dream'
Columbia
Bruce Springsteen was coming off a decade that included a reunion with the E Street Band, two strong albums of new material, an acclaimed folk music project and seemingly endless touring. He took a step backward with his next project, Working on a Dream, which hit stores on Jan. 27, 2009.
Perhaps it was the fact that the album was released so soon after 2007's Magic, whose tour had just ended five months earlier, or that the material was worlds removed from the angry political songs — some of Springsteen's best of the decade — on its predecessor. But even though the record has aged fairly well, the pop gloss found on Working on a Dream failed to capture the spirit of its time in the way that so many Springsteen albums had in the past.
It didn't help that two of the first four tracks rank high on the list of his all-time worst songs, a rarity for someone who famously pays close attention to the sequencing of a record. The eight-minute opener, "Outlaw Pete," was a misguided attempt at an epic folk tale about a kid who "at six months old [had] done three months in jail." (Springsteen also borrowed the melody from Kiss' "I Was Made for Loving You.")
Similarly, "Queen of the Supermarket" was greeted with plenty of eye-rolling, both for its lyrics and for Springsteen's over-the-top vocals which, to be fair, were his best Roy Orbison impression since 1993's "I Wish I Were Blind."
Watch Bruce Springsteen Perform 'Working On a Dream'
In the third spot, the title track, which had been premiered that fall on the campaign trail with Barack Obama — whom he had endorsed during the primaries — didn't stir too many hearts either. "Working on a Dream" was pleasant enough, but it lacked weight on a theme that he had tackled much more successfully in the past.
But once the listener got past its poor beginning — interrupted only by the blistering "My Lucky Day" — there were plenty of gems, with only the distorted blues of "Good Eye" failing to connect on some level. Springsteen and producer Brendan O'Brien borrowed heavily from the lush '60s Los Angeles-based AM pop of his youth. The sonic backdrop added extra heft to "What Love Can Do" and "Kingdom of Days," the latter of which was a gorgeous meditation on love and aging, a topic rarely addressed in rock.
"This Life" had echoes of the Beach Boys' Pet Sounds and a half-dozen Turtles hits, "Surprise Surprise" and "Life Itself" jangle along like lost Byrds tracks and "Tomorrow Never Knows" had the easygoing country shuffle of Glen Campbell's "Gentle on My Mind."
Working on a Dream closed with "The Last Carnival," a moving tribute to E Street Band keyboardist Danny Federici, who died in April 2008 from melanoma, and featuring Federici's son Jason on his father's accordion. The album also featured a bonus track in "The Wrestler," which was written for Darren Aronofsky's film of the same name. The song earned Springsteen a Golden Globe for Best Original Song two weeks before Dream was released.
Listen to Bruce Springsteen Perform 'The Last Carnival'
Springsteen couldn't have had a better advertisement for his new work. Five days after the album's release (and a few days before tickets for the tour went on sale), he performed at the Super Bowl halftime show. It seemed like a strange decision for Springsteen, who had always refused any attempt to tie his music to a corporate venture, but in his journal about the event, he explained his main reason.
"Since the inception of our band, it was our ambition to play for everyone," he wrote. "We've achieved a lot but we haven't achieved that. Our audience remains tribal … that is, predominantly white. On occasion, the Inaugural Concert, during a political campaign, touring through Africa in 1988, particularly in Cleveland with President Obama, I looked out and sang 'Promised Land' to the audience I intended it for – young people, old people, black, white, brown, cutting across religious and class lines. That's who I'm singing to today."
The move worked as well as could be expected. Working on a Dream debuted at No. 1 on the Billboard 200 and topped the charts in 17 other countries. Despite its obvious flaws, Rolling Stone gave Working on a Dream the now-customary five-star review, calling it "the richest of the three great rock albums Springsteen has made this decade with the E Street Band — and moment for moment, song for song, there are more musical surprises than on any Bruce album you could name."
Working on a Dream went on to sell 585,000 copies in the U.S., a respectable figure given that the country was in the midst of its worst recession in 80 years, and three million worldwide.
 
 
Bruce Springsteen Albums Ranked