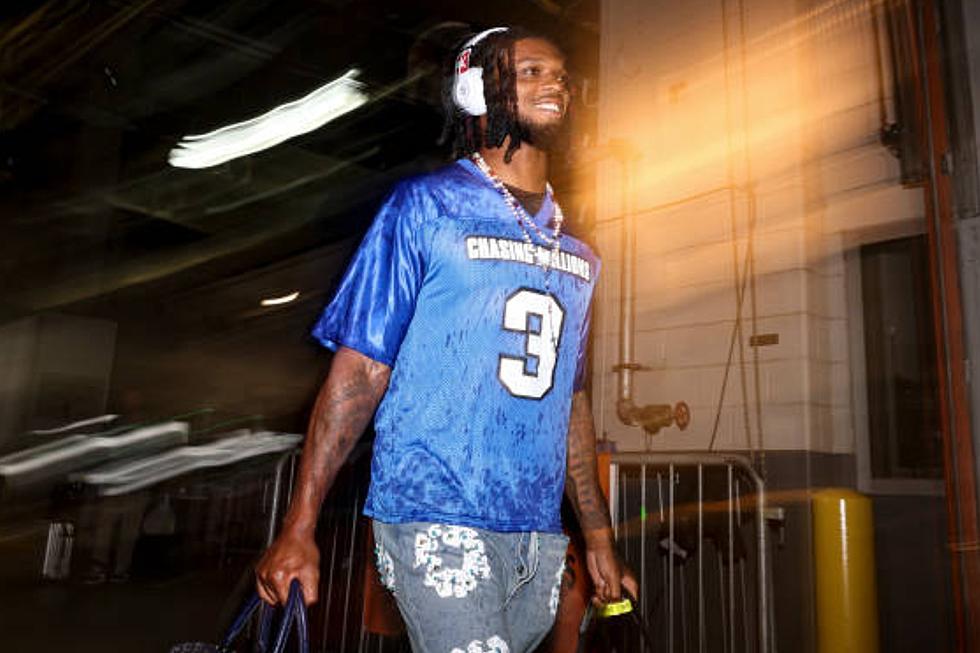 Get Your Hands On This New Bills Gear For A Good Cause ASAP
Getty Images/Canva
One of the many things you've got to admire about Damar Hamlin is the way he turned a harrowing situation and used it as a force for good. 
Even though Hamlin has yet to play in a regular season game, he is still using his star-power to give back to the community through his Chasing M's Foundation. The charity, which Hamlin started while he was in college, has raised millions of dollars for youth development programs, as well as hosting toy drives, back-to-school supply drives, and recreational youth camps. 
Additionally, after his frightening medical emergency at the end of last season, the foundation began to raise much-needed awareness to CPR and AED training.
Chasing M's popular clothing brand (including their "Did we win?" merchandise, named for the question Damar wrote on a clipboard while in the hospital connected to a breathing tube) was a hugely successful initiative to raise funds.
Very soon, Hamlin fans will have some new Chasing M's gear to get their hands on while showing support for the organization.
Damar Hamlin To Launch Limited Edition Hat Collection
Damar Hamlin has teamed up with Lids HD to create a capsule collection of New Era hats as an ode to Bills Mafia and their support.
According to the website, 
"From the all-over script to the satin interior lining, each hat features unique details representing Damar, his team and his community."
Available in black, blue, red or white, the Damar Hamlin x Buffalo Bills New Era Collection will be available for purchase online this Friday, with a portion of the proceeds going directly to the Chasing M's Foundation. 
Where Can You Buy The Damar Hamlin x Buffalo Bills Hats?
The hats will also be sold at certain Lids locations throughout Western and Central New York, including the Walden Galleria, Fashion Outlets at Niagara Falls, and Eastview Mall in Victor.  
We have a feeling this one-of-a-kind collection will be scooped right up, so if you're looking to snag one, you'd better be ready to grab one as soon as you can on Friday.
10 Shirts To Show Your Love For Damar Hamlin
Show your support for Damar Hamlin by sporting one of the shirts the Buffalo Bills wore on Sunday.
Amazing Shirts Any Bills Fan Will Love As A Gift
Whatever your style - classic, retro, funny, or chic - these shirts that you can get on Etsy are way better than the basic Bills merch in the team store.