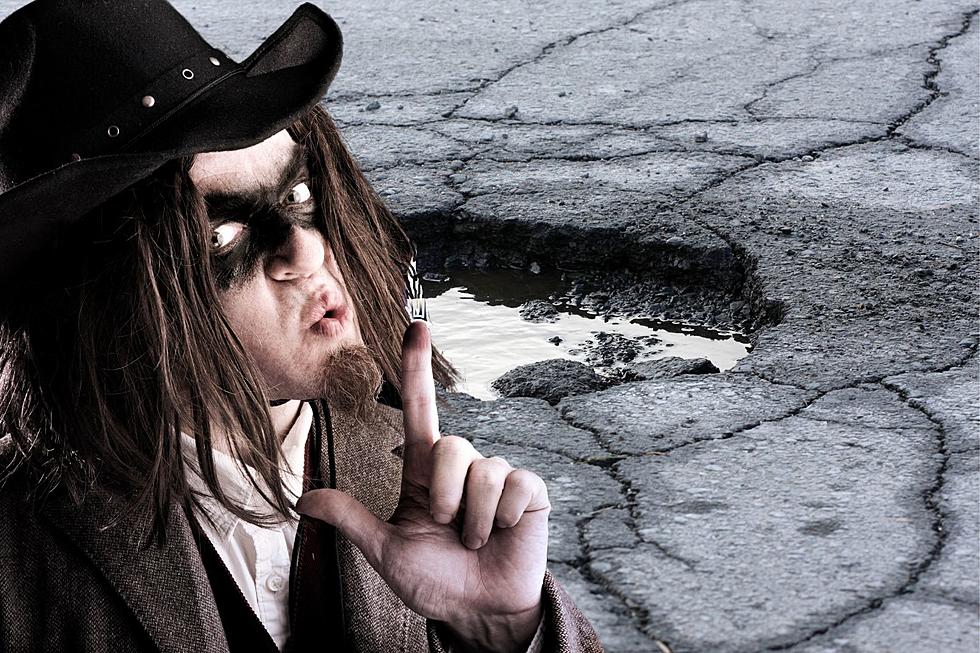 Amazing "Pothole Bandit" Fixes Potholes With Art In Buffalo
(Canva)
Potholes seem like they're a never-ending issue in Buffalo.  But at least one citizen has stepped in with a solution, and it's beautiful.
What causes a pothole?
There are a lot of causes for potholes.  But the big two are traffic and water.  When the top layer of concrete or blacktop cracks or breaks away and the base layer of stone gets washed out, it creates a hole in the road or sidewalk that people call a pothole.  In New York, we see a lot of these because we see a lot of both traffic and water (or snow).
Because we have so many, they're hard to keep up with
It seems like people are always complaining that their part of town has "the worst potholes" ever.  From snowplows constantly patrolling roadways to construction vehicles, our streets often see some heavy traffic and the weather is brutal.  So while our road crews do everything they can to get our streets in great shape for the winter, by the time it's over, they have to do it all over again.  Until they come up with a better (and affordable) way to pave our streets, it will always be a problem.
One citizen has come up with a way to fix the potholes in their neighborhood
They call themselves the "Pothole Bandit" on Instagram and they've gone out of their way to not only fix the potholes but to make them a work of art in the Elmwood Village.
Whoever they are, they use a combination of broken pieces of ceramic, concrete, blacktop, and other materials (like a rubber chicken, or a rubber snake) to fill the holes and create a piece of art for people to check out as they walk.
Normally they will give you the address of the pothole fill so you can keep an eye out for them yourself.
They are completely anonymous and intend to stay that way.
Is it legal to fill potholes on your own?
Years ago, to demonstrate how big some of the potholes in Western New York were, Rob Banks would go to them and fill them with all kinds of things like chicken wings, spaghetti, even a huge bowl of Cheerios.
That whole project was just something to build awareness to some of the biggest potholes in the area.
As for now, the city hasn't done anything to stop the "Pothole Bandit" and the community seems grateful all around.  They love looking at the art, and they love that the potholes aren't holes anymore!
But what if you wanted to just get some blacktop and do it yourself?  Could you?
No.  Technically it's not legal for you to fill the potholes yourself.  It's the responsibility of the municipality that owns the road to make repairs on that street.  There are a couple of reasons for that.  The most important reason is that it's dangerous to be in the middle of the street while cars are on it.  Another is that while many people think they know what it takes to do that kind of work, they might not know what the city or town code is.
Also, that's one reason why you pay taxes is to be able to get them fixed by the town or city where you live.
New York does have a hotline that is dedicated to receiving calls as to where these dangerous potholes exist.  You can call 1-800-PotHole to report yours.
10 Western New York Towns With The Worst Potholes
These towns are the absolute worst when it comes to potholes around Western New York.
12 Roads Western New Yorkers Want Fixed RIGHT NOW!
We all know there are some pretty bad roads in Western New York. Here are 12 of them that you said should be fixed ASAP.
The 5 Most Dangerous Roads In New York State
The most dangerous roads in New York.