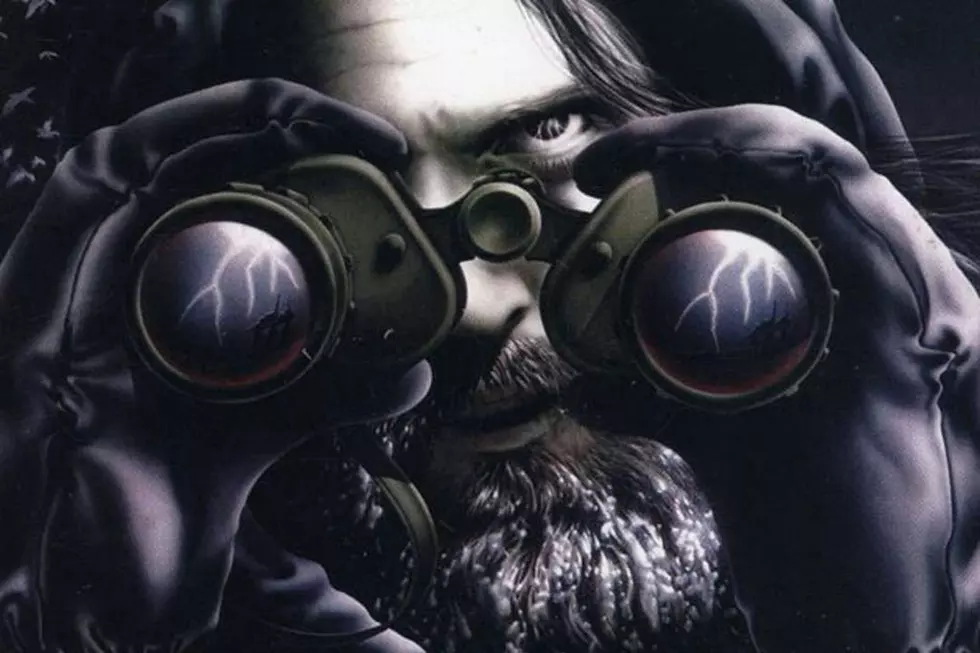 How Jethro Tull Ended the '70s With the Underrated 'Stormwatch'
Chrysalis
Jethro Tull's 12th studio album, Stormwatch, concludes with "Elegy," a quiet instrumental of pastoral acoustic guitar and melancholy strings. The title is appropriate.
Composed by keyboardist-orchestral arranger David Palmer in honor of his late father, the three-minute piece serves as a gentle swan song for bassist John Glascock, who died from effects of a cardiac infection soon after being dismissed from the band (and only playing on three tracks). But it's also an elegy in a broader sense, a quiet mourning for Tull's classic era -- the '70s.
Stormwatch is the last essential Jethro Tull album, a cohesive curtain call for the band's trademark prog-folk style. But it's also the black sheep of their catalog, overshadowed by 1977's Songs From the Wood and 1978's Heavy Horses -- the brilliant one-two punch that revitalized the band after a handful of lackluster mid-decade LPs. Pegged by critics as the final installment of a "folk-rock trilogy," Stormwatch continues in a similar vein as those earlier classics, blending progressive instrumental finesse (notably the more metallic guitar sound of mainstay Martin Barre) with British folk serenity (the reliable acoustic guitar and flute of frontman-songwriter Ian Anderson).
Though Anderson has always been the band's chief creative force, every Jethro Tull album is only as good as the players behind him. By 1979, the core of this classic line-up (Anderson, Barre, Palmer, keyboardist John Evan and drummer Barrie Barlow) had developed a rare level of chemistry for a rock band, having played together since 1972's celebrated Thick as a Brick. Stormwatch is defined by that dynamic interplay, offering some of the most unique arrangements in the Tull discography.
The band's rarely utilized funk influence came to the forefront on several pieces, including the propulsive "Something's on the Move" and the Eastern-tinged instrumental "Warm Sporran" -- the latter dominated by Anderson's deft bass playing.
Meanwhile, "Dark Ages" is one of Tull's most engaging longer pieces, stretching out to nearly 10 minutes as it seamlessly links disparate musical passages, including a stormy guitar solo by Barre and a climactic section of harmonized vocals and synthesizers. As a technical showcase, Stormwatch ranks alongside Thick as a Brick and Songs From the Wood as the band's most striking work.
Listen to Jethro Tull Perform 'Warm Sporran'
Barrow's contributions are particularly memorable, as he skirts between locomotive bombast ("North Sea Oil") and frenetic groove ("Orion"). Since Anderson took over bass responsibilities early on in the recording process (after having dismissed Glascock for health concerns), the frontman had a unique relationship with Barrow on this project.
"Some of Barrie's best performances are to be found on this record," Anderson said in the liner notes to a 2004 remaster. "Since I had the task of playing bass, we bonded in a musical way quite different to usual. Bass players and drummers have to have that special musical thing going, and we found that extra dimension quite easily. But of course, we all would rather have had the healthy presence of John throughout the recording."
Unfortunately, Stormwatch also showed signs of creative fatigue. "Home" is bogged down by its own breezy balladeering; the Anderson solo spotlight "Dun Ringill" is based on an eerily familiar guitar figure -- essentially a hybrid between "The Mouse Police Never Sleeps" and "Thick as a Brick." And the lyrics, exploring weighty themes of corporate greed and environmental dread, were less distinct than the fanciful sketches of Songs from the Wood or the earnest naturalism of Heavy Horses.
Watch Jethro Tull Perform 'Dun Ringill'
With the neon-tinted '80s looming, prog-rock bands were forced to adapt or go extinct. But Jethro Tull's classic line-up dissolved organically, each member departing in a domino effect.
After the Stormwatch tour, Barrow quit the band, brokenhearted after the death of his close friend Glascock. Meanwhile, a drained Anderson planned to start work on his first solo album, which pushed out the frustrated duo of Evan and Palmer. (Under commercial pressure from longtime label Chrysalis Records, Anderson agreed to label his solo project, 1980's A, under the Tull moniker.)
While Stormwatch never matches the absurd, grandiosity of Thick as a Brick or the playful wonder of Songs From the Wood, it remains an essential item in the Tull oeuvre. This is the last souvenir of the band's most fruitful period.
Jethro Tull Albums Ranked