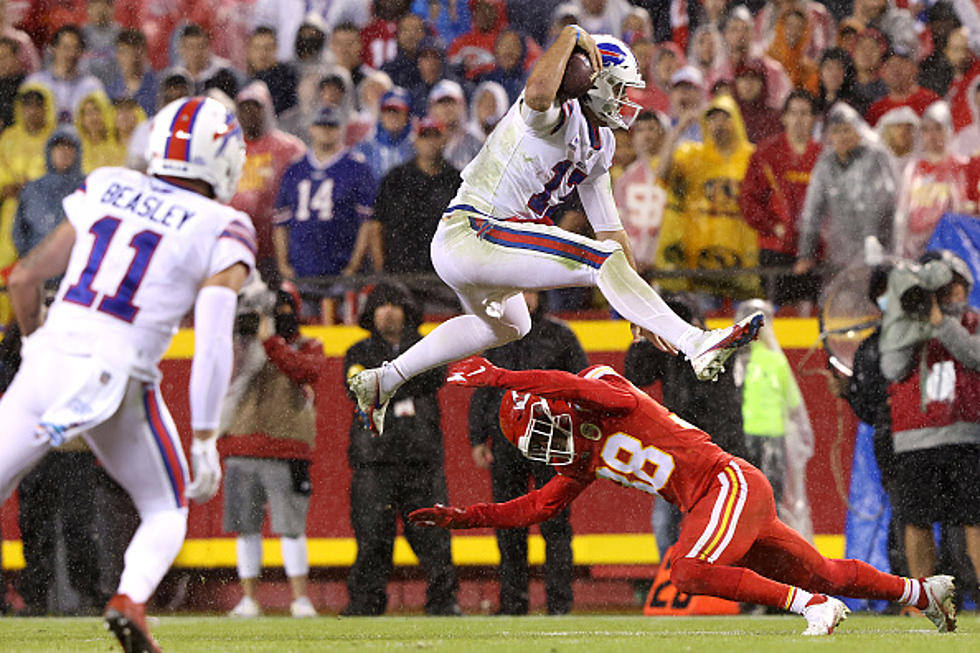 Josh Allen's Odds To Win NFL MVP: It's Better Than Mahomes and Brady
Getty Images
The Buffalo Bills are atop the AFC East with a 4-1 record and they also are tied atop the AFC standings with the Baltimore Ravens and Los Angeles Chargers.
The Bills have been blowing teams out. They've outscored their opponents in 2021, 172-64 which is the best point differential (+108) in the NFL by a wide margin.
Bills quarterback Josh Allen is a major part of that success. He threw for over 300 yards and three touchdowns against thee Kansas City Chiefs on Sunday night at Arrowhead Stadium; a game the Bills won, 38-20.
Allen is without a doubt a leading candidate for NFL MVP in 2021, but what are his exact odds?
According to Sports Illustrated Sportsbook, Josh Allen is the front runner to win NFL MVP in 2021 at +450. That's just ahead of Arizona Cardinals quarterback Kyler Murray (+500) and Los Angeles Chargers quarterback, Justin Herbert (+600).
Allen's MVP odds are better than Tom Brady (who is also at +600), Patrick Mahomes, Dak Prescott and Aaron Rodgers, which say a lot by how well he and thee Bills are playing.
The Cardinals are the only 5-0 team in the league, and Murray has been playing great, so it makes sense he's where he is right now at number two and of course, Herbert is having an outstanding season for the Chargers.
Allen finished runner-up in the NFL MVP voting last season, behind Rodgers, who won the award going away.
Get used to it, Bills fans; Josh Allen's MVP odds are probably going to stay near the top for quite some time.
15 Things You Should Never Do at a Bills Home Game
Things that are a no-no to do at a Buffalo Bills home game.
16 Buffalo Bills With Some Of The Best And Worst Nicknames
The Best 50 Ice Cream Places in Western New York
The warm weather means ice cream season is just about here.
$5 Million Dollar House For Sale Can Be Seen From Niagara River
Got a couple of million bucks laying around? Check out this 5+ million dollar home that is on the bank of the Niagara River.