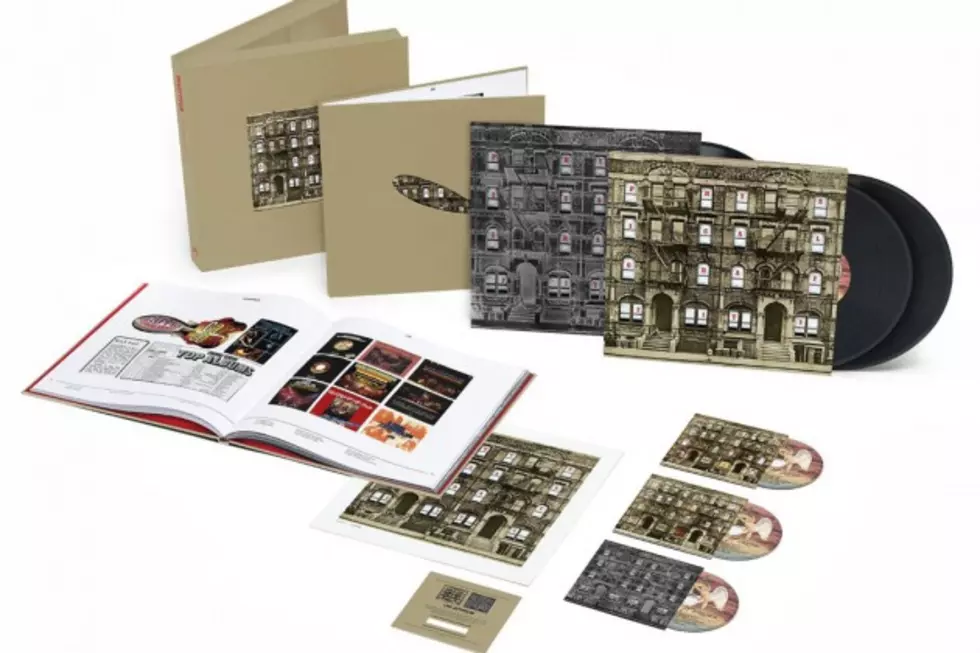 Led Zeppelin's Expanded Three-Disc 'Physical Graffiti' Reissue Announced
Atlantic
Looks like the last week of February is the official release date for the expanded reissue of Led Zeppelin's classic sixth album 'Physical Graffiti.'
Earlier today, the band updated its Facebook page with a new cover photo depicting an inverted negative-image take of the LP's cover (mirroring the imagery used in the series). And now Amazon U.K. has pre-order information available on the reissue, including track listing and a release date -- Feb. 23. The album will be released in the U.S. a day later, on Feb. 24.
In addition to the 15 tracks found on the original album -- spread out over two CDs, since the 1975 LP was a double -- the reissue's bonus material includes seven other cuts, all of them early or alternate versions of songs that ended up on the album. You can see the track listing for the bonus songs below.
The reissue will be available in a number of configurations, including a double CD featuring the remastered album in a replica of the original LP jacket; a Deluxe Edition including a third disc of unreleased material; a double LP remastered on 180-gram vinyl; a Deluxe Edition vinyl that includes the bonus material; a digital download featuring the remastered album and companion audio; and a Super Deluxe box that includes CDs, vinyl, hi-def download card, new alternate cover art, a hard-bound, 96-page book with rare photos and a print of the original album cover.
The additional material follows the pattern set by the previous five deluxe-edition remasters in the series. The band's first five records mostly included alternate versions of familiar songs as bonus cuts, except for the group's self-titled debut, which included a 1969 concert on its extra disc.
Led Zeppelin's remaining two albums, 'Presence' and 'In Through the Out Door,' will most likely see reissue sometime this year, too. 'Coda,' the odds-and-ends LP that came out in 1982, will probably see release in the future as well.
Led Zeppelin, 'Physical Graffiti' Deluxe Edition Bonus Tracks:
'Brandy & Coke (Trampled Under Foot - Initial Rough Mix)'
'Sick Again (Early Version)'
'In My Time of Dying (Initial Rough Mix)'
'Houses of the Holy (Rough Mix With Overdubs)'
'Everybody Makes It Through (In the Light Early Version/In Transit)'
'Boogie With Stu (Sunset Sound Mix)'
'Driving Through Kashmir (Kashmir Rough Orchestra Mix)'
You Think You Know Led Zeppelin?
Jimmy Page's and Other Rockers' Yearbook Photos