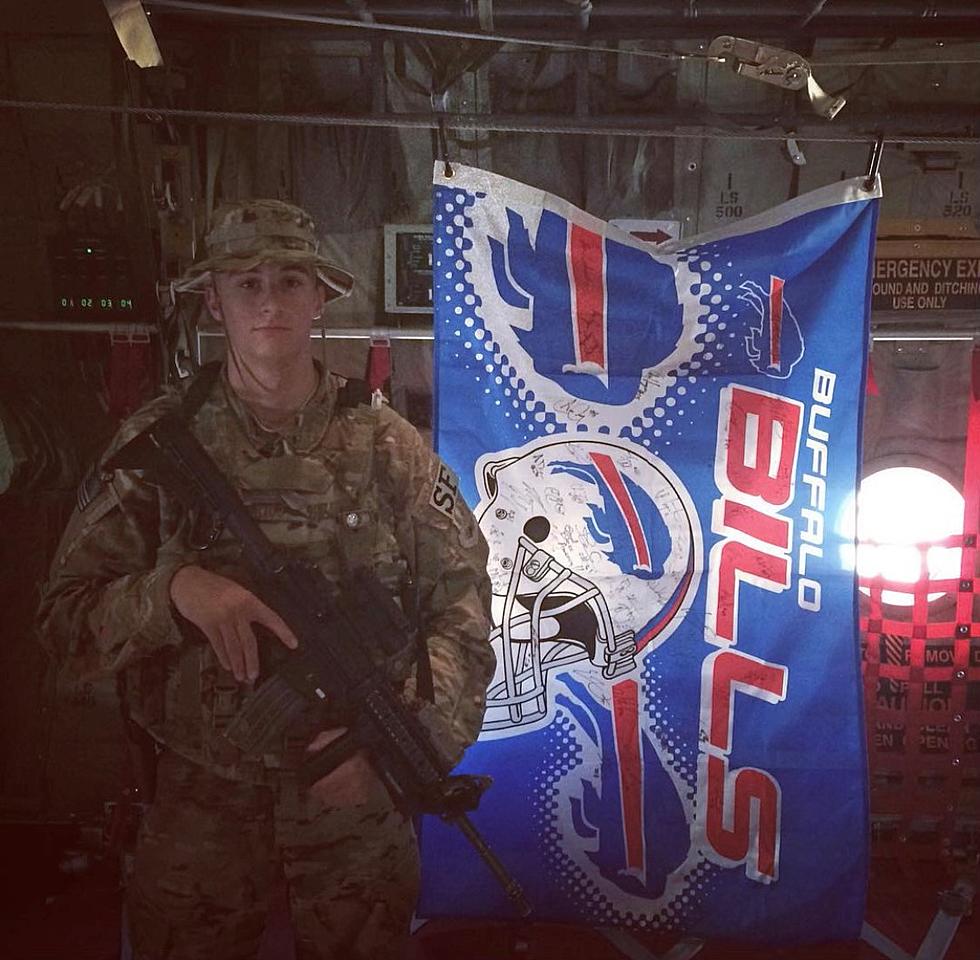 Lifelong Bills Fan and Local Veteran Dedicates Song To The City
Brendan Bartoo
Tell me you are a Bills fan by singing about it, rather than telling me about it. 
Brendan Bartoo, who grew up in Hamburg, served his country in the United States Airforce for six years. Presently, Bartoo still serves in the reserves at Niagara Falls. 
Bartoo spent three of those six years in Nebraska and the rest in New Jersey, and while his town may have changed, his favorite football team stayed the same. 
Brendan Bartoo is a lifelong Buffalo Bills fan, and just last week, he wrote an original song dedicated to his hometown and its beloved Bills. 
"I had the title written down for a while," Bartoo said.
The song is called "Town That Can Tailgate," and he wrote it hoping that it would get his friends excited for the Bills season. 
"I started writing it and it turned into a song about bringing someone from out of town to a Bills tailgate."
With Bartoo serving the United States in different regions of the country, he has made a lot of friends that aren't from Western New York, but rather places like Alabama, Iowa, Ohio, and Nebraska. However, Bartoo said, "[I] always found myself begging about the Bills tailgates."
"I know we didn't get to tailgate last year, so I know everyone is pumped to get it going this year," Bartoo said. 
One of Bartoo's personal friends commented on the song. "I think that song resonates with every Bills fan and even country music fans out there." 
Bartoo said, "I hope that it ["Town That Can Tailgate"] brings the community together again after everything this past year." 
Bartoo has since recorded the acoustic and it will be on a music streaming platform soon. Stay up to date on that by following our local hero on Instagram @brendanbartoomusic ."
"Go Bills!"
Top 10 Running Back In Buffalo Bills History
As we get ready for another season of Buffalo Bills football, check out the Top 10 running backis in Bills history.
Dave Fields Predicts The 2021/2022 Bills Regular Season
Ok..here are Dave's picks for who will win each game for the Bills' regular season.
Check Out The 11 Most Underrated Bills Defensive Players In The Past 30 Years
I wanted to comb past the amazing defenses the Bills have had over the past 30 years and put the spotlight on some stellar role players who help lead the team to the playoffs and beyond. We are talking about players that maybe didn't get lots of love from the National media or made tons of Pro bowls, but we were still proud that they were part of the team.