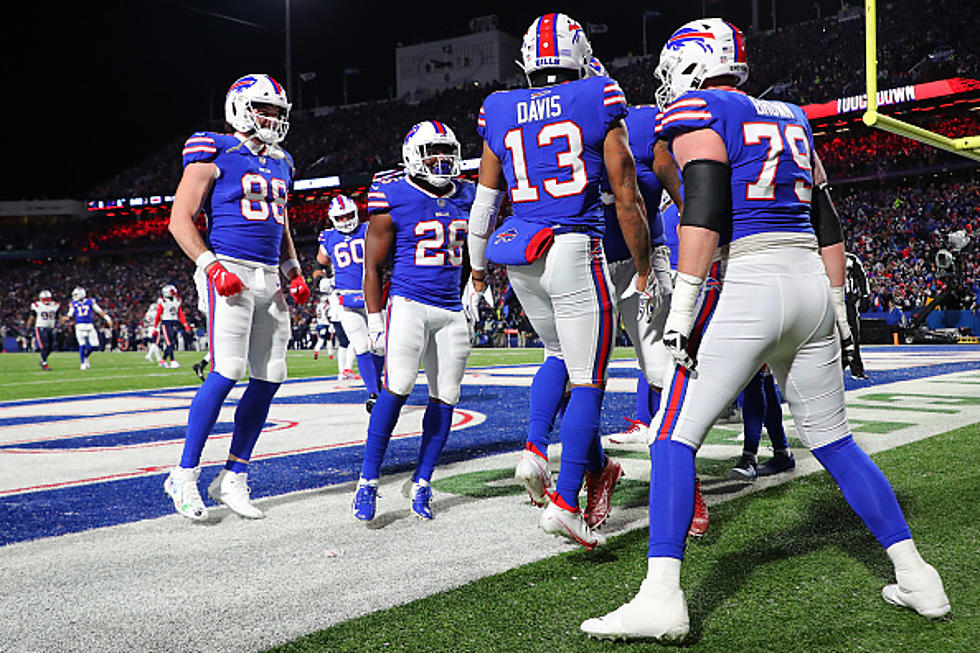 Open Letter to Bills Fans About to Attend First Home Playoff Game
Getty Images
Dear Bills fans, who are in their 20's and 30's,
It's been a long time coming...that's an understatement. The Buffalo Bills are about to play in their first full-capacity home playoff game since December of 1996. That was over 25 years ago, which is crazy to fathom.
Yes, the Bills franchise is not new to playing home playoff games. In fact, it was very common in the early-to-mid 90s.
The Bills famously made it to four straight Super Bowls, and lost them all. Buffalo played 10 home playoff games from 1988-1996. They won all of them except one, which was ironically, the last home playoff game the Bills had before last year -- to the Jacksonville Jaguars, in what was Jim Kelly's final NFL game.
The Bills had two home playoff games last season, but due to COVID-19 restrictions, just a few thousand people were able to attend. Nobody attended games during the 2020 season.
I'm a 30-year-old Bills fan and my first Bills game memory was the Music City Miracle game (aka: Home Run Throwback) against the Tennessee Titans in January of 2000.
That's when the Bills 17-year playoff drought began. Because of the year I was born, I missed the Super Bowl years and playoff success, and got all of the playoff drought with the likes of Drew Bledsoe, J.P. Losman, Kelly Holcomb, Trent Edwards, Ryan Fitzpatrick, E.J. Manuel and Tyrod Taylor.
Taylor ended up breaking the streak in 2017, but the Bills didn't play at home for that playoff run. They also didn't host a playoff game when they made it in 2019 with Josh Allen. Last year was the year we have all been waiting for, and hardly anyone could go to the game because of the pandemic.
There is an entire generation of Bills fans who are finally about to attend their first home playoff game, ever.
These aren't fans who are little kids or teenagers, either. These are long-suffering Bills fans who are in their 20's or even 30's, who have never gotten the chance to attend a home playoff game their entire life. Think about that, 30 years on this earth and never having the chance to attend a Bills home playoff game...
I'm fortunate enough to cover the game on Saturday night against the New England Patriots, so I won't be in the trenches with Bills Mafia, but just to be there for the game will be special and a "soak it in" moment.
It's going to be cold, as the game time temperature could reach 0 degrees, but even the crazy cold weather will not stop fans from going to this game if they have tickets. No way. After 25+ years, Bills fans who have never had the chance to attend a home playoff game are absolutely going to Highmark Stadium on Saturday night.
The fact it's against the New England Patriots, too; the team who has single-handedly tormented Bills fans, especially those who are between the ages of 21-35. Older Bills fans still consider the Miami Dolphins as their most hated team, but for Bills fans my age, it will always be New England.
Soak it in Bills Mafia. Saturday night will be one for the ages.
Last Time The Bills Won The AFC East At Home
The Buffalo Bills 2022 Opponents
The Buffalo Bills 2022 opponents are officially set.
Jerseys You Should Never Wear At A Buffalo Game
You should never be caught wearing these jerseys.
TACKLE THESE: Check Out the Best Uniforms In Each NFL Team's History
KEEP READING: Here are 50 of the most famous sports goofs