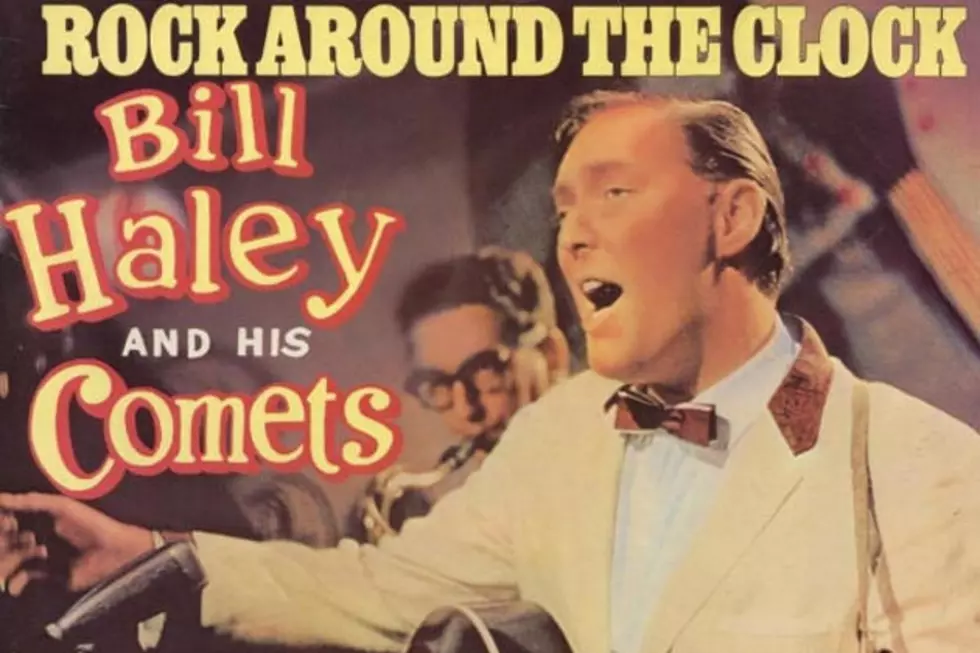 How 'Rock Around the Clock' Ended Up Being Released as a B-Side
MCA
Dick Clark called it "the National Anthem of Rock 'n' Roll." But "Rock Around the Clock" by Bill Haley and His Comets almost disappeared after its release as a B-side. Written in late-1952 by lyricist Max Freedman and music publisher James Myers (under his pseudonym Jimmy De Knight), Haley released "Rock Around the Clock" on May 20, 1954, and it remains one of the cornerstones of rock music.
With his chunky frame and spit curl, Bill Haley seemed an unlikely pioneer of rock. Before the Comets, Haley fronted the Saddlemen, a country-and-western band. In 1953, Haley had what could be considered to be the first rock 'n' roll song on the Billboard chart, "Crazy Man, Crazy." A few attempts at a follow-up for Essex Records had flopped when Myers suggested his new tune to Haley.
"I had written the melody and about half of the lyrics, but I was having trouble with the rest of it," Myers told the Rockabilly Hall of Fame. "Max Freedman, who had written some other songs with me, walked into my office while I was fooling around with it one day and said, 'That sounds pretty good, can I help you with it?' I said, 'Why not?' When we finished it he said, 'What are you going to call it?' I said, 'Rock Around the Clock.' ... When I showed it to Bill Haley he flipped over it, but his record company at that particular time said it would never sell."
In an interview from his biography Bill Haley, the rocker claimed Essex Records wouldn't record the song because the label's founder Dave Miller had an axe to grind with Myers. "Jimmy and Dave Miller didn't like each other. Three times I took the tune into the recording studio … every time Miller would see it, he'd come in and tear it up and throw it away. So I never could record it."
Still, "Rock Around the Clock" became a popular part of the Comets' stage show. Myers helped the band move to Decca Records in 1954, and after Sonny Dae and His Knights had a hit in Philadelphia with the song, Haley was determined to record it.
Listen to Sonny Dae and His Knights' 'Rock Around the Clock'
A session was booked at the Pythian Temple, a Masonic hall turned recording studio in New York City. Decca producer Milt Gabler was adamant that the Comets' first single should be "Thirteen Women (And Only One Man in Town)," a Louis Jordan-style novelty song. Haley and the Comets – pianist Johnny Grande, tenor saxophonist Joey Ambrose, steel guitarist Billy Williamson and bassist Marshall Lytle – were joined by two session players: Danny Cedrone on guitar and Billy Gussak on drums. The B-side, recorded almost as an afterthought, was "Rock Around the Clock."
"On April 12, 1954, we drove from Chester, PA to New York City to record our first session for Decca Records," Marshall Lytle recalled in For Bass Players Only. "We were a little late in arriving and only had three-and-a-half hours to record two songs. The first one was called 'Thirteen Women.' We had never heard that song before we got to the studio and it took us three hours to get to it finished. That left us only 30 minutes to record 'Rock Around the Clock.' Fortunately, we had an arrangement. We recorded it with just two takes. In those days, everything was recorded together at the same time, without mistakes. 'Rock Around the Clock' just came together like magic."
Many say the most memorable part of "Rock Around the Clock" is the lightning-speed solo played by session guitarist Danny Cedrone. Lytle told NPR that Cedrone struggled to come up with his iconic solo.
"Danny, during the first few minutes of rehearsal, was groping for a solo that he could play on it. And I said to him, 'Well, Danny, you played such a fantastic solo on 'Rock This Joint' and 'Rock This Joint' didn't do very much. Why don't you just do that same solo on 'Rock Around the Clock' and see if it fits?'" "Thirteen Women" and its overlooked B-side reached No. 23 on the chart in 1954. But a year later the A-side would be forgotten while its flip, "Rock Around the Clock," became the top song in the country thanks in part to a kid in Hollywood who loved rock.
Hear Bill Haley and His Comets' 'Thirteen Women' 
In 1954, production began on the MGM film Blackboard Jungle, based on the Evan Hunter novel about juvenile delinquency, starring Glenn Ford star as teacher Richard Dadier. Ford's son Peter, then a 13-year-old rock 'n' roll fan, had bought a copy of Haley's "Thirteen Woman" when it was released.
"[Director] Richard Brooks and my father would meet away from MGM during production to discuss the film," Peter Ford later recalled. "Richard stopped by our house on occasion to visit Dad and talk about the production. It was on one of these visits that Richard heard some of my records. One of them was 'Rock Around the Clock.' I now know that he borrowed that record and some others on one of his visits.
"Joel Freeman, who was the assistant director on the film, recalled that toward the end of production, which would have been mid-December 1954, Brooks called him into his office to hear some records that he thought might possibly be used in the opening of the film. He played Joel three songs and they agreed that Haley's up-tempo 'jump blues' tune was the perfect choice for inclusion the film."
When "Rock Around the Clock" blared over the opening and closing credits of 'Blackboard Jungle' it caused a sensation. It was the first rock song used in a Hollywood film and had teens dancing in the aisles. Re-released in June 1955 to capitalize on the film's success, the song spent eight weeks at No. 1.
The song would climb the charts again in 1974 when it was used in the movie American Graffiti and as the opening theme of the TV sitcom Happy Days.
Hear Bill Haley & His Comets' 'Rock Around the Clock'
"I knew that I had a tune that was a natural for my style," Haley said in 1979 interview. "I felt it was a great song but I had no idea it would last this long."
Haley, who died in 1981, would record more hits like "Shake, Rattle and Roll" and "See You Later Alligator" but never repeated the success of "Rock Around the Clock." Only saxophonist Joey Ambrose survives of those who participated in the recording of 'Rock Around the Clock.' Ambrose continues to perform with Bill Haley's Comets, joined by Bill's daughter, singer and guitarist Gina Haley.
Guitarist Danny Cedrone never got to enjoy the success of "Rock Around the Clock." Cedrone died just two months after the song was recorded. The victim of a fall, he didn't live to see his legendary solo propel "Rock Around the Clock" to the top of the charts and into rock history. He was replaced by Frannie Beecher, who died in February 2014.
 
Top 100 Classic Rock Artists