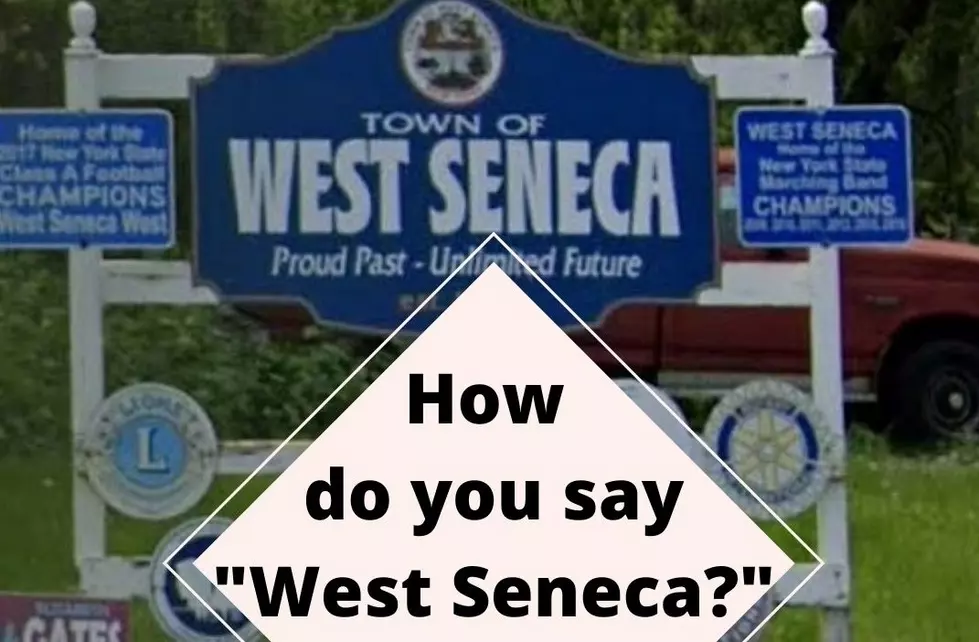 Do Western New Yorkers Say "West Seneca" Or "Wesseneca?"
Photo Credit: Google Maps, Canva Image
If you have ever ran into a tourist on the New York side of Niagara Falls or come across a Buffalo transplant, they might have told you that you have, what they call, the "Buffalo accent."
Is there a Buffalo accent? Yes. It's doc-U-men-TARY, not doc-u-men-turr-ee, and let's not forget that we add a "the" before pretty much every major highway. You can take the Buffalo accent quiz here to see how strong yours is. 
Even though we live in Western New York, that does not mean that we say everything the same. 
For example: take "West Seneca."
Some people emphasize the "t" after "West," while others let the two words blend together to create the informal term of "Wesseneca." 
Obviously there is only one way to say the Western New York town, but what pronunciation is most common?
We took a poll on social media to see what Buffalonians say when they are talking about "West Seneca."
Here are some of the top responses:
 "I suppose if I am speaking normally in conversation with someone, it will sound more like

Wessenica

. When giving out my address, I enunciate."

"They're the same?"

"I don't know anybody that actually says '"

West Seneca

'"

"It's pretty close to 100% for

Wessenica

. It's not a unique thing though, it is just how language evolves in real usage. It's similar to how nobody fully pronounces the show Saturday Night Live. It's more Saturday night live. It's just a natural thing people do to smooth out words without losing their meaning."

"There is no 't' in that town's name."

"I empathize West....

WEST

Seneca, so that it doesn't get confused with East Seneca."

"Probably more like westseneca… I definitely pronounce the T but there isn't emphasis on it being 2 words."

 

don't ditch the 't' when sending a piece of mail to West Seneca.

 
12 WNY Words That Out-Of-Towners Struggle To Pronounce
10 Best Places To Raise A Family In New York State
New York State is one of the best places in the country for people to raise a family. From amazing schools to plenty of outdoor spaces New York State offers some of the best towns and cities for parents and children to enjoy their lives.
Western New York Teacher Hall Of Fame
There are so many teachers who have done so much for our community that it goes way beyond the classroom, so the creation of the Western New York Teacher Hall of Fame is long overdue.
Please help us congratulate the following teachers for being officially inducted into the Western New York Teacher Hall Of Fame.