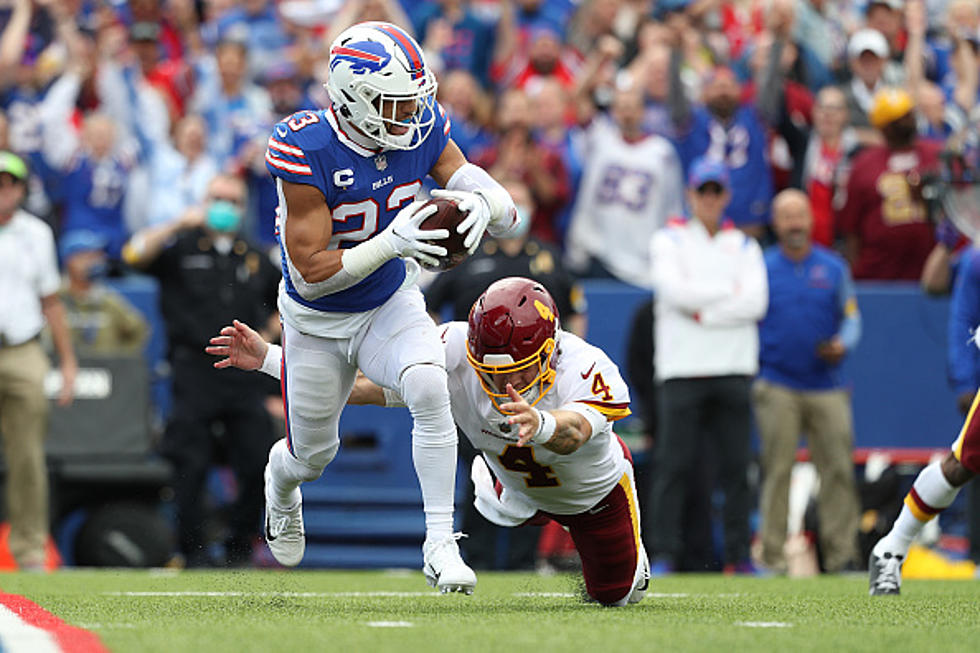 The Buffalo Bills Have Been Dominant: This Stat Proves It [TWEET]
Getty Images
It was a huge sigh of relief in week 2 for Bills fans. The Bills beat the Miami Dolphins, 35-0 on the road and while the offense didn't quite play up to the level that we're all used to from last season, it was still a decisive win.
Yesterday, the Bills played a game that most Bills fans wanted to see and what we saw many times in 2020. They defeated The Washington Football Team, 43-21, and the offense was back to their 2020 form.
Josh Allen threw for nearly 360 yards and accounted for five total touchdowns, with four of them through the air. Two of those touchdown passes went to wide receiver Emmanuel Sanders, who was signed as a free agent in the offseason.
Despite the week 1 loss to the Pittsburgh Steelers, the Bills have been dominant compared to the rest of the NFL. Two blowout wins can do that.
In fact, the Bills are currently tied with the Denver Broncos for the best point differential in the NFL at +50, according to ESPN Bills reporter, Alaina Getzenberg.
The next closest team is the Carolina Panthers at +39. That point differential might grow by quite a few points as the Bills play the Houston Texans next Sunday.
Bills wide receiver Cole Beasley admitted after the Washington win that despite the 35-0 win against the Dolphins, the offense wasn't firing on all cylinders. They felt much more like what they wanted to do against Washington.
The Bills host the Texans at Highmark Stadium this Sunday at 1 pm.
Check Out The 11 Most Underrated Bills Offensive Players In The Past 30 Years
The Buffalo Bills have has some amazing players over the years. We all know the superstars so we wanted to put the role players in the spotlight with this list.
Check Out The 11 Most Underrated Bills Defensive Players In The Past 30 Years
I wanted to comb past the amazing defenses the Bills have had over the past 30 years and put the spotlight on some stellar role players who help lead the team to the playoffs and beyond. We are talking about players that maybe didn't get lots of love from the National media or made tons of Pro bowls, but we were still proud that they were part of the team.
Every Pick Made By Buffalo Bills GM Brandon Beane
25 Things You Need To Do In Buffalo and WNY This Fall Season
The best 25 things to do in Western New York this fall season.
The 25 Perfect Fall Restaurants in Western New York
The best restaurants during the fall in Buffalo and Western New York.