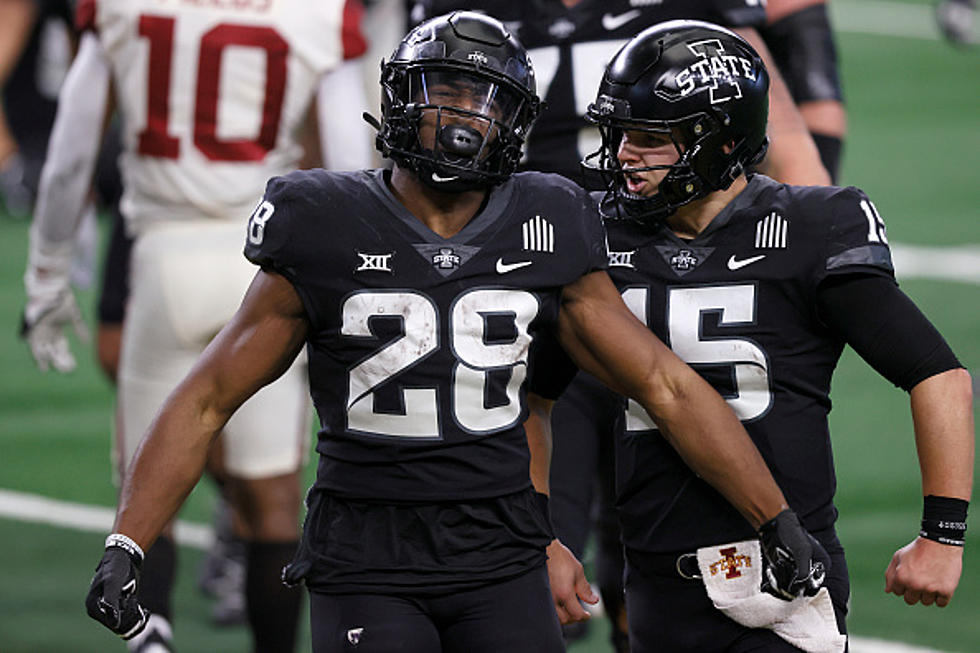 Chris Owen: The Buffalo Bills 2022 NFL Mock Draft
Getty Images
We're just over two weeks away from the 2022 NFL Draft and things are really heating up for who experts think will be taken, along with potential rumors and reports that link players to teams.
Maybe you have had fun in recent years trying out some of these mock draft sites, which allow you to take control of a team and draft for all seven rounds.
The Draft Network is one of the most popular services to use, and I decided to take on the responsibility for a seven-round mock draft for the Buffalo Bills.
The cool part of The Draft Network or Pro Football Focus' mock draft machines is it tries and make it as realistic as possible, as the machines take team needs and the draft board (with some surprises tossed in) to replicate what the draft will be like in late April.
The Bills certainly don't need a ton of help, but could use depth for 2022 at positions like wide receiver, cornerback and offensive line.
Here is the mock draft for the Bills I used. We will go through many of the picks.
The mock drafts I have seen have Ohio State wide receiver Chris Olave going anywhere between 11-25. It really depends on who you ask. If Olave falls down that far, the Bills should run to the podium. They should run faster if Alabama's Jameson Williams falls that far. Western Michigan's Skyy Moore would be my next choice if Williams and Olave are gone.
Keep an eye on Skyy Moore, by the way. If the board goes heavy with wide receivers between 8-24, Moore could be the pick at 25. He's shorter at 5'10'', but he can play inside or outside and is a great separator at the line of scrimmage. He would be a textbook fit in the Bills offense.
Iowa State's Breece Hall is the best running back in this year's draft to me and has been mocked anywhere from the late first round to the late second round. He could add an element to the Bills offense they do not have. He's an all-around back who is more explosive than Devin Singletary and Zack Moss.
The Bills finally go cornerback at 89th overall with Nebraska's Cam Taylor-Britt. Britt is a tall cornerback (6'0'') who is a good cover corner with okay tacking ability.
Okay, some Bills fans might say "WHAT?" at a punter in round 4. Trust me though, San Diego State's Matt Araiza is worth it. Araiza is the Ray Guy award winner for college football's best punter in 2021. He led the country with a 51.2 average yards per punt and was lethal at pinning teams deep. He's arguably the best punter to ever come out of college. He's that good.
The Bills get offensive line and safety help in rounds 5 and 6 and get a pretty interesting tight end in the 6th round. Iowa State's Charlie Kolar could develop into a starter.
The Bills round out the draft here with a developmental quarterback in Iowa State's Brock Purdy (I know, heavy on the Cyclones).
Purdy would be a practice quad candidate in 2022 and while he does not have the arm Josh Allen does, he's got a great mental makeup and can make plays with his arm and legs. His biggest crutch is throwing into coverage. He reminds me of Ryan Fitzpatrick (who was also a 7th round pick) with a slightly stronger arm.
Purdy is a luxury pick and a swing at a long-term backup QB option for the Bills.
What say you, Bills Mafia? Which picks do you like and which do you dislike?
Every Pick Made By Buffalo Bills GM Brandon Beane
TACKLE THESE: Check Out the Best Uniforms In Each NFL Team's History
CHECK IT OUT: 100 sports records and the stories behind them