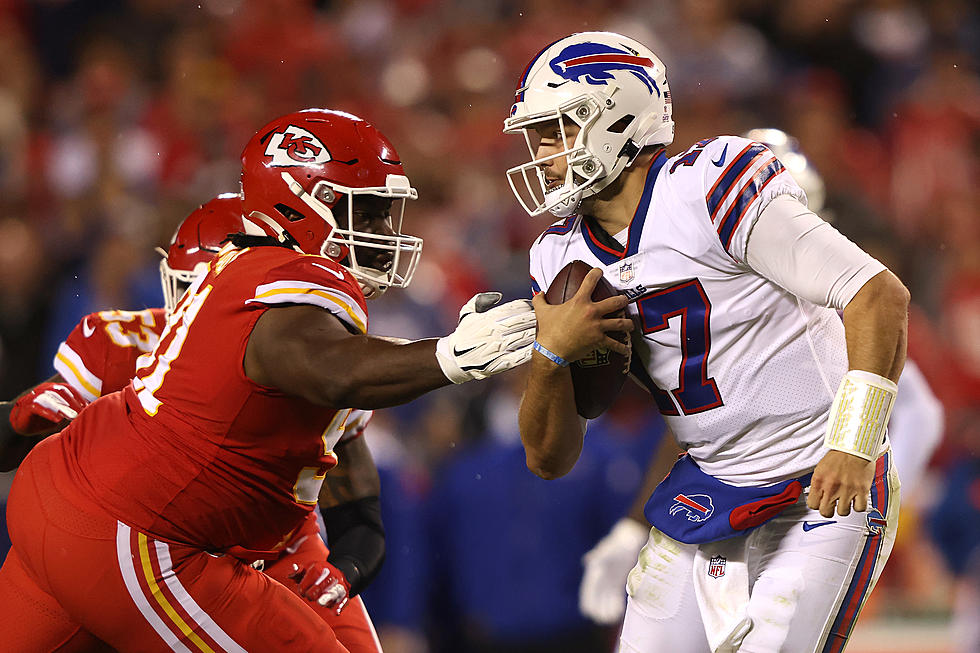 Buffalo Radio WYRK Makes Bet With Kansas City's KFKF
Getty Images
Buffalo is going head to head with Kansas City in more ways than one.
The Buffalo Bills will be in action this Sunday at Arrowhead Stadium, taking on the Kansas City Chiefs for the premiere matchup in the divisional round, and everyone is going to be watching that game January 23 at 6:30 pm on CBS.
Including your local radio stations – in both Buffalo and Kansas City.
The Buffalo morning radio show Clay & Company from 106.5 WYRK called The Dale Carter Morning Show from Country 94.1 KFKF in Kansas City to place a wager.
If the Buffalo Bills win on Sunday, The Dale Carter Morning Show has agreed to play the Bills Shout! Song on the radio the following morning.  
However, if the Kansas City Chiefs were to win on Sunday, Clay & Company agreed to play the touchdown celebration song for the Chiefs, which is Take It Back by Blane Howard. 
Dale Carter seemed a little shocked to receive a call from Buffalo. 
What are the odds that the Buffalo Bills public address announcer called the radio show of the Kansas City Chiefs public address announcer? 
Slim, I suppose, but we felt like we had to make a wager because of how much this game has been anticipated.
You may remember in January 2021 that the Bills lost to the Chiefs in the AFC Championship game last year by a score of 38-24. Towards the end of the game, both teams were racking up personal foul penalties, and it quickly turned ugly.
The Bills played in Kansas City this season in the first rematch back in October, and Bills fans loved it when Buffalo won that game by a score of 38-20.
It would be nice to see a repeat of the October game, but the Bills will still have to come out strong on Sunday night to secure the win this weekend against the Chiefs. 
Clay & Company Bill-ieves! Do you?
[THREAD] If McDermott takes this Bills team to the Super Bowl, and ultimately wins it, will he instantly become the best Head Coach in Bills history?
A Reddit thread began circulating on social media, and the subreddit has a variety of responses.
Best 20 Bars in Western New York to Watch The Bills' Playoffs Games
If you're looking for the best place to watch the Bills' journey through the playoffs, look no further than this list of the best 20 bars in Western New York that always make Bills game day extra special.
Amazing Photos From Bills Big Win Over KC
Check out some highlights from the Bills' big win over the KC Chiefs.
26 Worst Streets To Live On During a Snow Storm
When the snow doesn't let up, it makes you wonder if a plow has shown up — at least once? They most likely have, but nonetheless, these are the worst 26 streets to live on during a snow storm in Western New York.