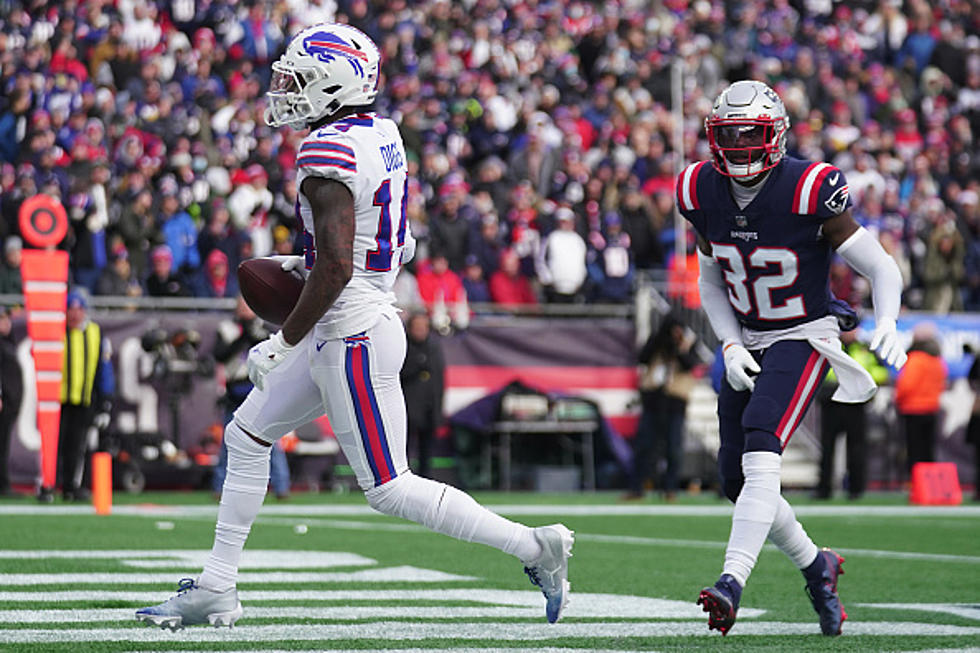 Barstool Sports' Dave Portnoy Tell Bills Fans Stop Bragging About AFC East
Getty Images
The Buffalo Bills won the AFC East title for the second straight season, after defeating the New York Jets 27-10 at Highmark Stadium on Sunday.
The Bills went into Sunday needing a win over the Jets or a New England Patriots loss against the Miami Dolphins, which did happen, as the Patriots fell 33-24 to the Dolphins as well.
The Bills finish the season 11-6, while the Patriots finished 10-7.
What was crazy on Sunday is because of the Indianapolis Colts losing in a huge upset, courtesy of the Jacksonville Jaguars, it looked like the Bills had better odds to play either the Las Vegas Raiders or Los Angeles Chargers, but because of other circumstances playing out, the Bills still face the New England Patriots in the Wild Card Round.
The Bills host the Patriots this Saturday night at Highmark Stadium. Kickoff will be at 8:15 pm and be aired on CBS. It's the first playoff game between the two teams, which is pretty remarkable to think about.
Bills and Patriots fans do enjoy going after one another on social media, especially on Twitter.
Barstool Sports has a huge Boston presence and that's due to president of Barstool Sports, Dave Portnoy.
Portnoy is a famous figure in sports media and he also loves pumping up the Patriots. He's taken some fun shots at Buffalo and Bills mafia before, and he decided to downplay the Bills winning back-to-back AFC East titles.
Portnoy says it means nothing if the Patriots win this Saturday, and that next week is actually for the division title.
This Wild Card playoff game will be the first full-capacity home playoff game for the Bills since December of 1996, when they lost to the Jacksonville Jaguars. That was also Jim Kelly's final NFL game.
Also, this was from the second week of December.
It's only Monday, and we are sure to have another five days of build-up from Boston and Buffalo towards this huge game.
The Bills Clinch The AFC East At Home For The 1st Time Since 1995
The Buffalo Bills are the AFC East champs for the 2nd straight year. Check out some photos from the division-clinching win over the NY Jets.
10 Photos Bill Belichick Haters Will Love To See
If you love to hate on Bill Belichick, you will love these photos
29 Things That Make Buffalonians Happy
What Makes Buffalonians Happy
Former Buffalo Sabres Player Sells Million-Dollar Clarence Home
One of the key players on the Buffalo Sabres 1999 playoff run, Richard Smehlik, is
selling
his Clarence home.
The Top 30 Beef on Weck Restaurants In WNY
The 30 best places for beef on weck in Western New York.