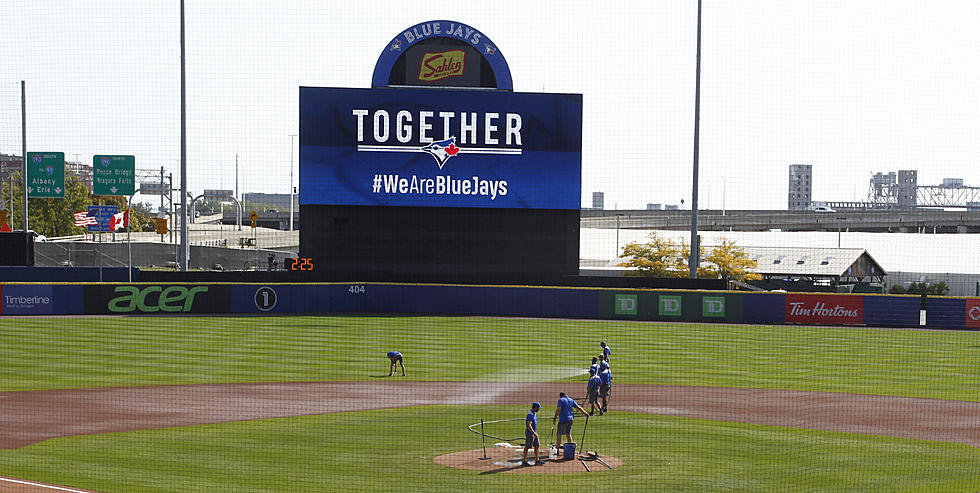 DETAILS: Get Ready To Buy Your Blue Jays Tickets in Buffalo For Father's Day Gifts
Getty Images
It might not be a bad idea to get ready to get the greatest Father's Day gift.
Here is the link to buy dad some Blue Jays tickets for Father's Day. 
The Blue Jays are returning to Buffalo at Sahlen Field for the second stint because of COVID and absolutely NOBODY is complaining about it. In fact, the Jays call it their 'home away from home'.
Now that they officially have a home base and we can finally get some people back in the stands it is time to get tickets! You are going to have to move fast, because there is a limited amount of availability.
The first 8 home games go on sale this week.
The next batch of home game tickets will go on sale on June 3. 
Now, if you are already a Buffalo Bisons season ticket holder, you get access to Blue Jays tickets starting on May 18. Everyone else is going to get their shot at scoring some tickets when they go on sale to the public on Thursday, May 20. These dates have been delayed because New York's changing COVID protocol for sporting events and large gatherings. The Blue Jays organization decided that they could put more people in the stands now that the guidelines changed, and held off last minute to execute the ticket sales properly. 
How will it work? Fans will choose between 2 separate sections to sit in, according to the Blue Jays ticketing site.
Physically Distanced Seating Sections
Tickets are sold in pods of up to four seats, with each pod spaced a minimum of six feet apart and are available to both vaccinated and non-vaccinated fans.
Fans sitting in physically distanced seating are not required to present vaccination documentation or a negative COVID-19 test result. There are no fan COVID-19 testing requirements to enter Sahlen Field.
Fully Vaccinated Seating Sections
Fully vaccinated seating sections will have fans seated directly beside other parties.
Fans aged 16 and older sitting in fully vaccinated seating sections must present a photo ID that matches their proof of receipt of full COVID-19 vaccination, received at least 14 days prior to the day of the game.
Fans under the age of 16 may accompany and be seated with a fully vaccinated guest in a fully vaccinated seating section; no negative COVID-19 test result is required.
Watch These 6 Former Buffalo Sabres In The Playoffs This Year
Once again the NHL playoffs are here and once again the Buffalo Sabres are on the outside looking in. The good news is that if you are a Buffalo Sabres fan, there are plenty of ex-Sabres players on playoff teams this year.
Buffalo Sabres Goalie Masks
Buffalo Sabres Captains Since 2000