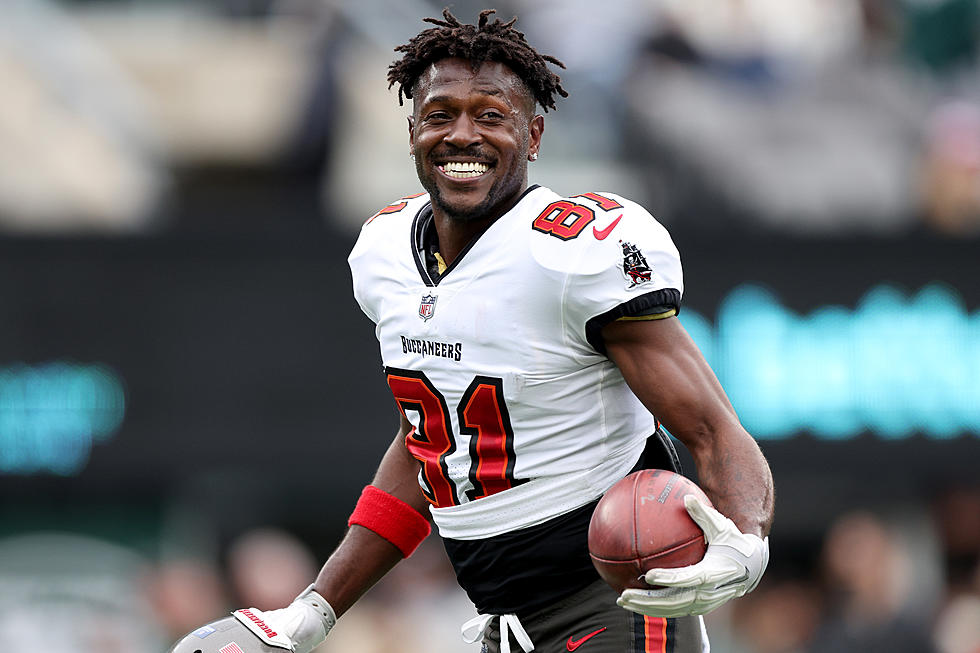 Former Bills WR Lashed Out After Compared to Antonio Brown
Getty Images
A former Buffalo Bill is speaking out after being compared to Antonio Brown following the way Brown quit mid game and walked off the field.
Most Twitter threads have, in some capacity, nicknamed Antonio Brown a "diva," and now Terrell Owens' name has been thrown into the mix.
The former wide receiver for the Buffalo Bills has taken on a lot of heat over the years, but he will not put up with anyone calling him a diva or associating him with the term. 
Terrell Owens (T.O.) lashed out on Sunday after a Twitter post began trending, asking commenters to determine whether Owens or Brown was the bigger diva during their football careers. 
The Twitter post was published shortly after Brown's incident on the field, which included him tearing off his jersey, football pads, and leaving the field to flag an Uber — all during a Tampa Bay Buccaneers game. 
If you haven't seen the sudden exit, watch the video below.
Owen Doesn't See, Nor Does He Like, Comparison
Terrell Owens saw the Twitter post trending, asking who was the bigger diva, and he did not take too kindly to it. 
It's safe to say T.O. was a bit insulted.
"Wow. Respectfully and disrespectfully, there's no comparison. Clearly you've been drinking the kool-aid." 
While many people on Twitter seemed to agree that Terrell Owens was the bigger diva on the original post, more people came to T.O.'s defense after he made his own post on Twitter.
It is also worth noting that Terrell Owens never once quit on his teammates the way that Brown did on Sunday. 
Remember when T.O. played through a broken leg at the Super Bowl? Not everyone just does that…especially not a diva.  
After the Buccaneers defeated the New York Jets 28-24 in the game that Brown stormed off at, Tampa coach Brian Arians said, "I'm not talking about him [Brown]. He's no longer part of the Bucs."
Owens Remains A Beloved Buffalo Bill
T.O. never had an incident quite like Antonio Brown's, but he did have a "dramatic" career, one might say.
The San Francisco 49ers suspended Owens for a game after he celebrated on the star at midfield against the Dallas Cowboys. The celebration also cost him a fine of $24,294.
Later in his career, Owens was released from the Dallas Cowboys to improve locker room morale, according to the Dallas owner at the time, Jerry Jones.
Owens, however, had no issues during his stand-alone season with the Buffalo Bills, and that's one of the reasons why we still love him! Once this season, T.O. was invited to Highmark Stadium to serve as "The Legend of the Game."
In 2020, Owens told reporters that he wished he could have stayed in Buffalo longer.
"Honestly, I wish I could have played another year or two (in Buffalo)," Owens said. "If you look at my stats, they weren't particularly good in the beginning of the season, but once I got with Ryan Fitzpatrick it was like 'Fitz Magic.'"
Maybe we'll see T.O. at another Bills game this season. 
10 Reasons Why Trubisky Will Be Fine As The Bills Starting QB
Before you panic about the absence of Josh Allen, there are 10 reasons why Trubisky will likely make Buffalo proud in the Bills vs. Panthers game.
13 Pictures of The Bills Mafia Parade Near Tampa Bay
Here are 13 pictures of the Bills Mafia parade that stormed the waters in Madeira Beach, Florida, just about 25 miles away from Tampa Bay.
8 Buffalo Bills You Can Afford With Powerball Winnings