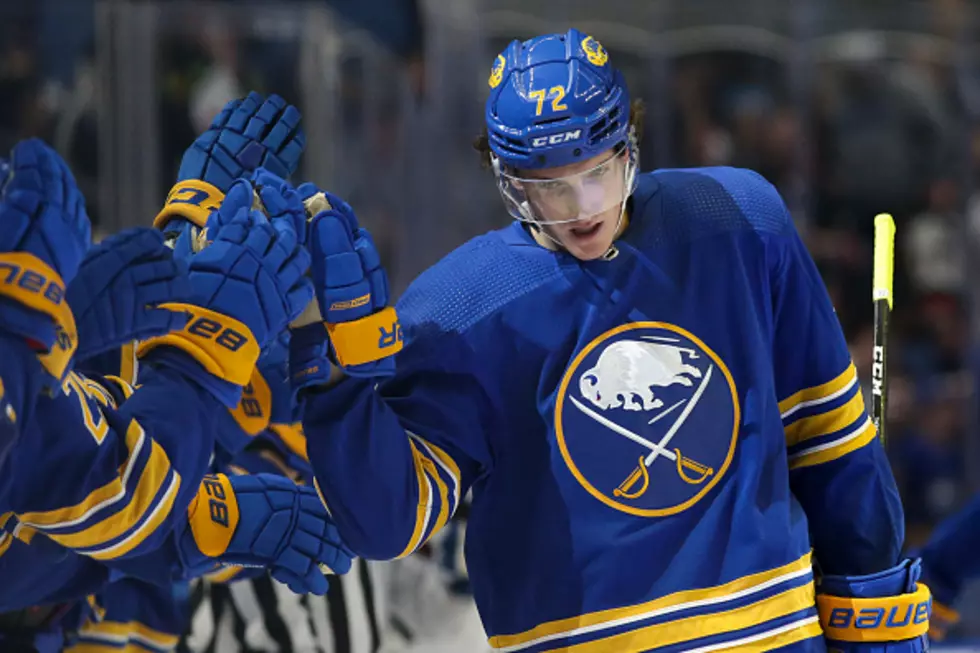 Buffalo Sabres Fans Getting Fooled by Fake Trade Report
Getty Images
The NHL playoffs are going on as we speak. The conference finals are going on, with the Stanley Cup Final expected to begin next week...we just need to know which teams will advance. That looks to be the Florida Panthers against the Vegas Golden Knights, as both have big leads in their series.
That would mean Jack Eichel and Sam Reinhart, two former Buffalo Sabres, would face one another to win the Stanley Cup.
The silver lining for Sabres fans is that they have a lot to show for it.
Buffalo got Alex Tuch, Peyton Krebs and Noah Ostlund (draft pick) for Eichel, while they got Devon Levi and Jiri Kulich (draft pick) for Reinhart.
General manager Kevyn Adams has done a good job building the roster with excellent young talent, along with the right people for the locker room.
The biggest catalyst for the resurgence of the Buffalo offense has been the unprecedented development of center Tage Thompson.
Thompson was acquired back in 2018 as part of the Ryan O'Reilly trade and it first appeared he would never be an effective scorer in the NHL. Then he exploded in 2021-2022, scoring 38 goals. Thompson followed that with 47 goals and nearly 100 points in 2022-2023.
Sabres fans are getting tricked by a fake report by someone posing as Daily Faceoff reporter Frank Seravalli.
It's regarding a fake "nixed" trade between the Sabres and Toronto Maple Leafs. It's not real.
The real Seravalli is this account.
This kind of thing happens a lot on Twitter. Always click on a profile and see how many followers they have, when the account was created and especially what the username is.
Top 10 Most Underrated Buffalo Sabres of All-Time
16 Buffalo Bills With Some Of The Best And Worst Nicknames
Complete List Of Buffalo Bills Available On Cameo