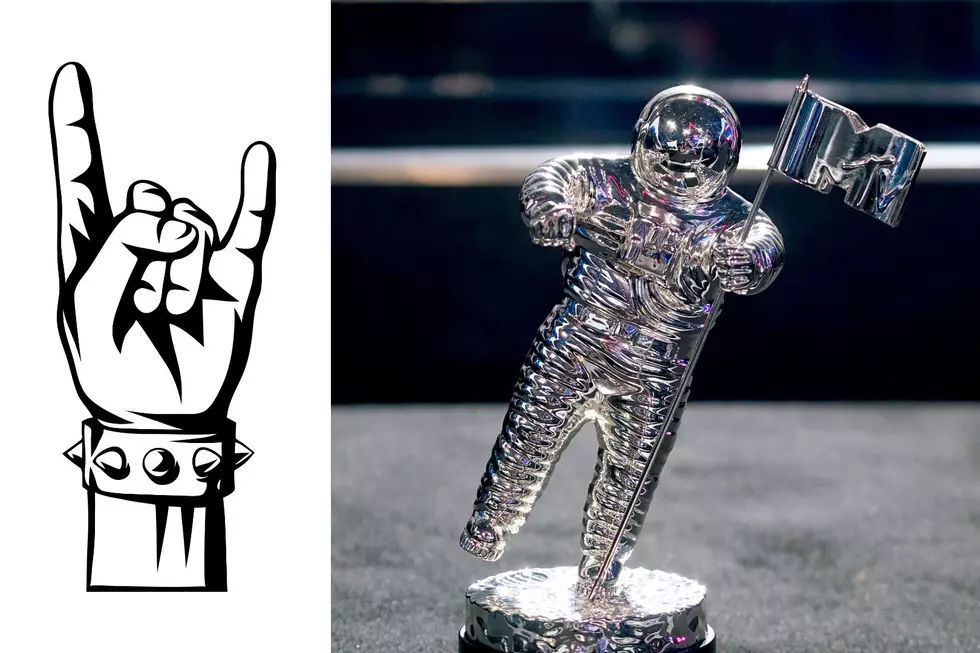 2023 MTV VMAs – Full Rock + Alternative Winners List
incomible, iStock/Getty Images / Manny Carabel, Stringer/Getty Images
Here are all of the rock and alternative winners at the 2023 MTV Video Music Awards (VMAs).
Typically, big time award shows over the last decade and more have largely shied away from rock music of almost any sort. Even so, rock has remained in relatively good standing with the annual event that doles out its highly coveted Moonman trophy to the winners.
Even though many categories are dominated by the biggest names in mainstream music, rock artists such as Metallica, Foo Fighters, Linkin Park, Paramore, Blink-182 and others are all up for awards this year (though those nominations are largely limited to the rock and alternative categories).
In the Best Alternative category the nominees are, Blink-182's "EDGING," boygenius' "The Film," Fall Out Boy's "Hold Me Like a Grudge," Lana Del Rey featuring Jon Batiste's "Candy Necklace," Paramore's "This Is Why" and Thirty Seconds to Mars' "Stuck."
Fall Out Boy also nabbed a nomination for Best Visual Effects for "Love From the Other Side") and boygenius is nominated for Best Art Direction for "The Film." Panic! at the Disco also snagged a Best Choreography nomination for their "Middle of a Breakup" video.
In the Best Rock category, you'll find Foo Fighters' "The Teacher," Linkin Park's "Lost," Red Hot Chili Peppers' "Tippa My Tongue," Maneskin's "The Loneliest," Metallica's "Lux Aeterna" and Muse's "You Make Me Feel Like It's Halloween."
READ MORE: Who Were the Winners of the Very First MTV Video Music Awards?
As far as performances go, there is actually a decent amount of rock to be expected.
Fall Out Boy will perform at the VMAs for the first time since 2007. Italian rockers Maneskin are also slated to perform and up-and-coming rock band The Warning will rock out on the Doritos Extended Play Stage.
In addition to that, we can expect rocking shows from pop singers Demi Lovato – who recently released her REVAMPED album, which includes rock versions of some of her biggest hits — and Olivia Rodrigo — who's brand new and heavily rock leaning album GUTS is already topping charts and bringing guitar music to huge audiences.
See the complete winners list below for all of the categories starring rock artists directly below.
2023 MTV VMA ROCK + METAL WINNERS LIST
Winners in bold.
BEST ALTERNATIVE
blink-182 – "EDGING" – Columbia Records
boygenius – "the film" – Interscope Records
Fall Out Boy – "Hold Me Like A Grudge" – Fueled By Ramen
Lana Del Rey ft. Jon Batiste – "Candy Necklace" – Interscope Records
Paramore – "This Is Why" – Atlantic Records
Thirty Seconds To Mars – "Stuck" – Concord Records / Concord
BEST ROCK
Foo Fighters – "The Teacher" – RCA Records
Linkin Park – "Lost (Original Version)" – Warner Records
Red Hot Chili Peppers – "Tippa My Tongue" – Warner Records
Måneskin – "THE LONELIEST" – Arista Records
Metallica – "Lux Æterna" – Blackened Recordings
Muse – "You Make Me Feel Like It's Halloween" – Warner Records
VIDEO FOR GOOD
Alicia Keys – If I Ain't Got You (Orchestral) – NETFLIX
Bad Bunny – "El Apagón – Aquí Vive Gente" – Rimas Entertainment
Demi Lovato – "Swine" – Island Records
Dove Cameron – "Breakfast" – Columbia Records
Imagine Dragons – "Crushed" – KIDinaKORNER / Interscope Records
Maluma – "La Reina" – Sony Music US Latin
BEST VISUAL EFFECTS
Fall Out Boy – "Love From The Other Side" – Fueled By Ramen – Visual Effects by Thomas Bailey and Josh Shaffner
Harry Styles – "Music For A Sushi Restaurant" – Columbia Records – Visual Effects by Chelsea Delfino and Black Kite Studios
Melanie Martinez – "VOID" – Atlantic Records – Visual Effects by Carbon
Nicki Minaj – "Super Freaky Girl" – Republic Records – Visual Effects by Max Colt and Sergio Mashevskyi
Sam Smith, Kim Petras – "Unholy" – Capitol Records – Visual Effects by Max Colt / FRENDER
Taylor Swift – "Anti-Hero" – Republic Records – Visual Effects by Parliament
BEST CHOREOGRAPHY
BLACKPINK – "Pink Venom" – YG Entertainment / Interscope Records – Choreography by Kiel Tutin, Sienna Lalau, Lee Jung (YGX), Taryn Cheng (YGX)
Dua Lipa – "Dance The Night (From Barbie The Album)" – Atlantic Records – Choreography by Charm LaDonna
Jonas Brothers – "Waffle House" – Republic Records – Choreography by Jerry Reece
Megan Thee Stallion – "Her" – 300 Entertainment – Choreography by Sean Bankhead
Panic! At The Disco – "Middle Of A Breakup" – Fueled By Ramen – Choreography by Monika Felice Smith
Sam Smith, Kim Petras – "Unholy" – Capitol Records – Choreography by (LA)HORDE – Marine Brutti, Jonathan Debrouwer, Arthur Harel
BEST ART DIRECTION
boygenius – "the film" – Interscope Records – Art Direction by Jen Dunlap
BLACKPINK – "Pink Venom" – YG Entertainment / Interscope Records – Art Direction by Seo Hyun Seung (GIGANT)
Doja Cat – "Attention" – Kemosabe Records / RCA Records – Art Direction by Spencer Graves
Lana Del Rey ft. Jon Batiste – "Candy Necklace" – Interscope Records – Art Direction by Brandon Mendez
Megan Thee Stallion – "Her" – 300 Entertainment – Art Direction by Niko Philipides
SZA – "Shirt" – Top Dawg Entertainment / RCA Records – Art Direction by Kate Bunch
MTV Video Music Awards Rock Awards Winners by Year