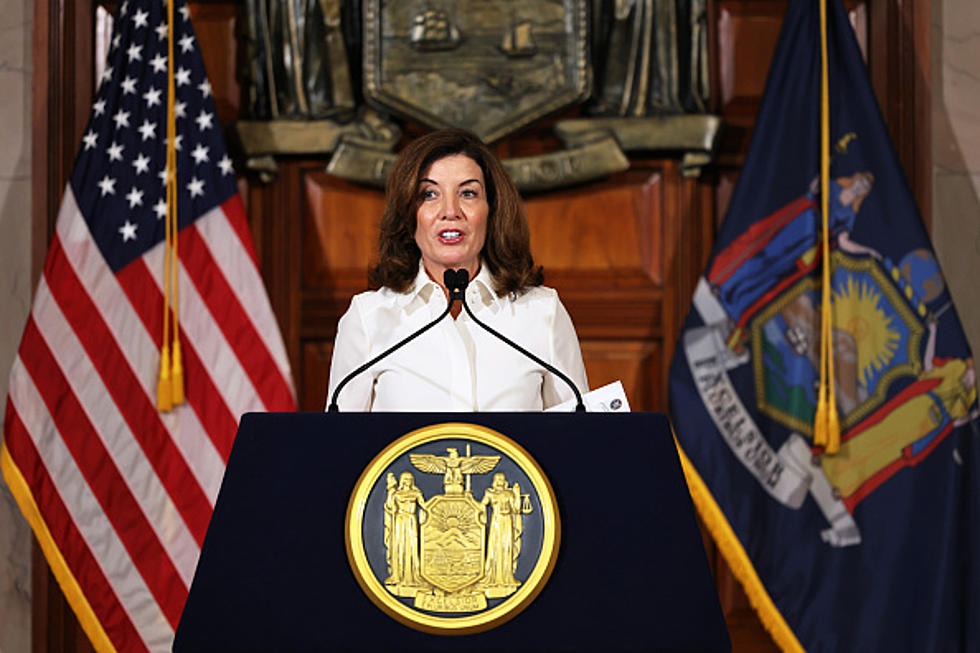 Effective Immediately: Gov. Hochul Announces Official COVID-19 School Guidance
Getty Images
Governor Kathy Hochul has been working to adjust the COVID-19 guidelines in New York schools since she took the oath to serve as the governor just weeks ago, and now she has finalized the official COVID-19 guidance for school systems.
Strategy to Reopen, Emergency Regulation
Governor Hochul announced that her strategy to reopen schools safely were driven by two main things: demonstrating the new administration's commitment to making the health and well-being of students, teachers, and families a top priority. 
The Public Health and Health Planning Council passed an emergency regulation, which allowed the Health Commissioner to issue a decision that requires all school employees, including teachers and administrators, to submit a weekly COVID-19 testing unless they show proof of vaccination. Accepted forms of proof include a CDC vaccination card or the Excelsior Pass. 
This decision isn't unheard of in schools, and many colleges across the country already had a similar set up -- but wait. There's more. 
Official Guidance for Schools
Governor Hochul formally announced the finalized official guidance for classroom instruction, as released by the New York State Department of Health. One should note that these guidelines follow the Governor's mask requirement that was issued last week, mandated that a mask must be worn by everyone in a school building during instructional hours and extracurricular activities. 
The official guidance, as released by the New York State Department of Health, prioritizes in-person learning over an online medium. It largely tracks with the CDC's guidance which school districts were strongly suggested to follow. 
"My top priority is to get children back to school and protect the environment so they can learn, and everyone is safe," Governor Hochul said. "On day one of my administration, I announced a series of bold back-to-school initiatives, including a universal mask requirement for anyone entering our schools."

Governor Hochul and the New York State Department of Health issued a guidance to make sure all school staff members are vaccinated or are tested regularly -- for the safety of not only the individual staff member but also the greater school system community. 
"Our children deserve to be safe and protected in schools." Hochul said, "I'm doing everything in my power to guarantee that."
Requirements for New School Year
The emergency regulation, passed by the Public Health and Health Planning Council, gives authorization to the Commissioner to require weekly testing or proof of vaccine. This will apply to all schools in New York State "until it is no longer necessary," as per the formal regulation. 
Within this new guidance, schools should implement physical social distancing without excluding students from in-person learning to meet a minimum distance requirement. A distance of at least 3 feet is "strongly recommended between all students" and a distance of "at least 6 feet is recommended between students and staff members (including teachers) -- as well as between staff members who are not fully vaccinated. 
As for bus rides, students and drivers must wear masks on school buses, including on buses that are operated by public and private school systems -- regardless of vaccination status yet can be subject to an exemption. 
The State Department of Health Commissioner, Howard Zucker, confirmed the decision to mask in schools. 
Masking in schools "applies to all indoor settings, including indoor sports and extracurricular activities." For swimmers or other extracurricular activities where masking may not be possible in that setting, a minimum of a 6 feet distance must be maintained.
Schools are encouraged, but not yet required, to implement screenings and regular testing for participants and students who may not be fully vaccinated. The schools must have the capacity and offer testing for any student, teacher, or staff member who is symptomatic or has been exposed to COVID-19.
Top 10 WNY Public High Schools According To US News and World Report
Check out the latest ranking of Public High Schools in WNY according to US News and World Report.
25 Things You Need To Do In Buffalo and WNY This Fall Season
The best 25 things to do in Western New York this fall season.