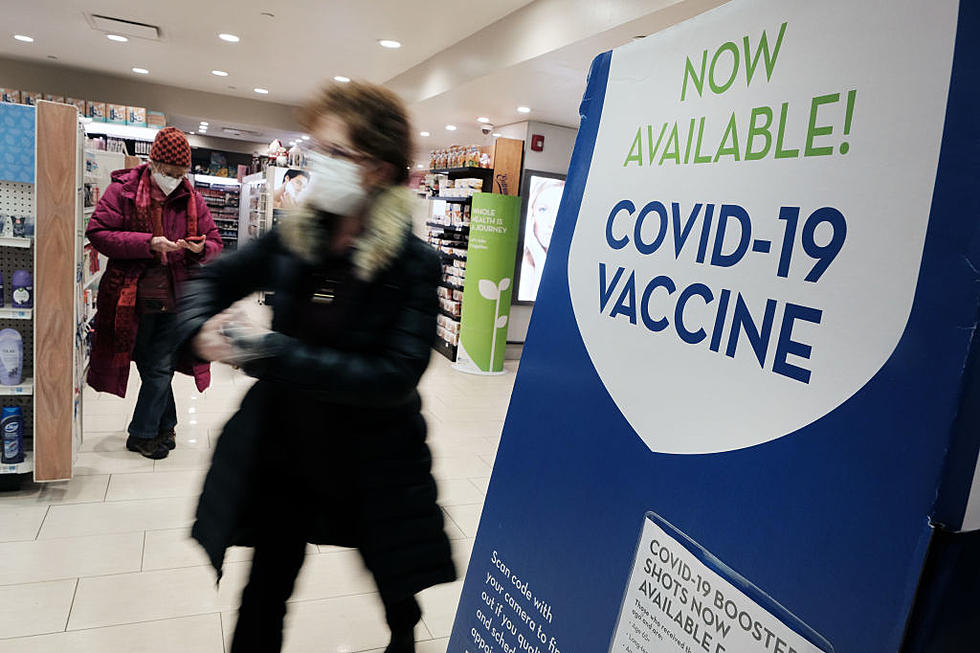 40 NEW VACCINE POP-UPS AROUND NEW YORK STATE
Getty Images
After communities with low vaccine rates reached out to the Governor's office looking for assistance, Governor Kathy Hochul over the weekend announced the rollout of over  40 new Pop-Up vaccination sites across The Empire State.  The Governor announced the pop-up sites on Saturday, in an effort to fight the winter surge the state is facing and the rapidly spreading Omicron variant.
These sites began to launch last weekend (12/18) and are part of a multi-week effort, in partnership with local county health departments and community partners, to get all New Yorkers fully vaccinated and boosted.
The winter surge is in full force, but we are not defenseless. We have the tools to fight this virus and its variants: Get vaccinated, get the booster and wear a mask....We will continue working with local partners to make vaccines, boosters and testing widely available as soon possible so that all New Yorkers can protect themselves and their loved ones.
The following Western New York counties will be hosting vaccination events in the coming weeks:
Chautauqua County: Pfizer-BioNTech 12+, Pfizer-BioNTech Booster, Moderna 18+, Moderna Booster -Northwest Arena, 319 W. 3rd St, Jamestown, NY 14701 (4:00 PM - 8:00 PM)
Erie County: Pfizer-BioNTech 5+, Pfizer-BioNTech Booster, Janssen/J&J
12/21: The Belle Center, 104 Maryland St., Buffalo, NY 14201 (11:00 AM - 5:00 PM) 12/22: Delavan Grider Community Center, 877 E. Delavan Ave., Buffalo, NY 14215 (11:00 AM - 6:00 PM).
Monroe County: Pfizer-BioNTech 12+, Pfizer-BioNTech Booster12/25: The Vineyard Farms & Outdoor Center for Excellence, 126 Sander St, Rochester, NY 14065 (12:00 PM - 5:00 PM)
New York State's Department of Health, via their website, encouraged all New Yorkers to follow and share with others this important information for healthy holiday gatherings:
All New Yorkers 5 and older should get fully vaccinated.
All New Yorkers 18 and older who are two months past the Johnson & Johnson vaccine or 6 months past the Pfizer-BioNTech or Moderna initial vaccine series should get their booster dose.
All New Yorkers 16-17 who are six months past their completed Pfizer-BioNTech vaccine series should get their booster dose.
All New Yorkers 6 months and older should also get their flu shot.
New Yorkers should get tested after traveling and before seeing family.
All travelers, domestic and international, should continue to follow all CDC travel requirements.
New Yorkers who don't feel well should stay home
Wear masks in public indoor spaces and wash hands regularly.
CLICK HERE for more information about the COVID-19 vaccine in New York State.
What Do I Need To Know About COVID For Sabres games?
What do you need to know for Sabres games? Do I need to wear a mask at Sabres games? Does a kid have to wear a mask at Sabres games?
Answers to 25 common COVID-19 vaccine questions
Vaccinations for COVID-19 began being administered in the U.S. on Dec. 14, 2020. The quick rollout came a little more than a year after the virus was first identified in November 2019. The impressive speed with which vaccines were developed has also left a lot of people with a lot of questions. The questions range from the practical—how will I get vaccinated?—to the scientific—how do these vaccines even work?
Keep reading to discover answers to 25 common COVID-19 vaccine questions.