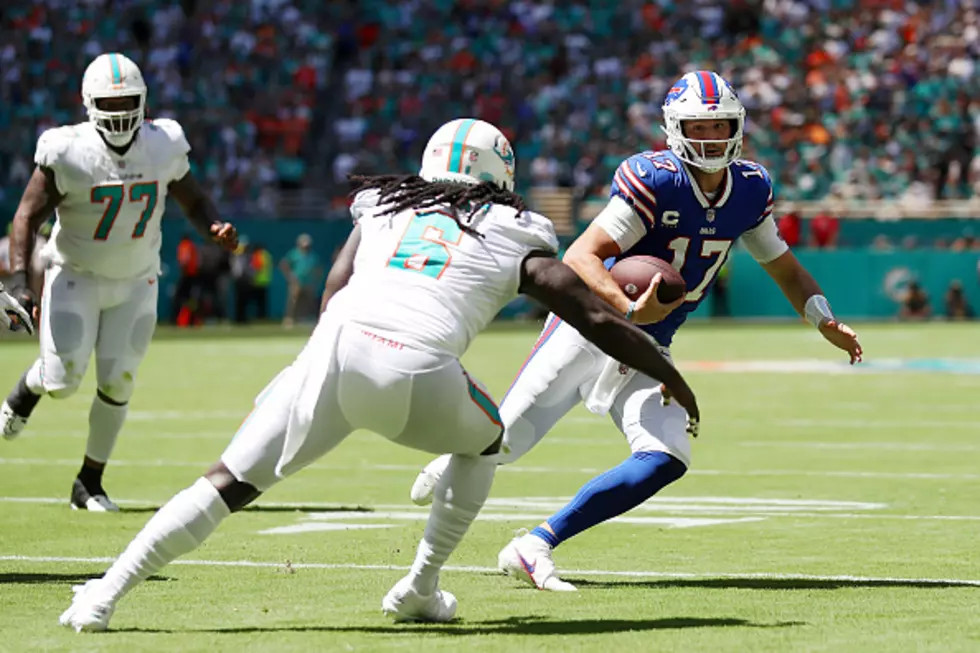 Dolphins Player Tries to Kick Josh Allen During Sunday's Game [VIDEO]
Getty Images
The Buffalo Bills had many opportunities to win their week 3 game in Miami against the Dolphins, despite the mounting injuries and players leaving due to cramping, but ended up coming up short 21-19 at Hard Rock Stadium.
Josh Allen played a good game and had a valiant effort to lead the Bills to victory, but too many mistakes prevented that; including Allen one-hopping a pass to an open Isaiah McKenzie on 4th down when the Bills tried to take the lead late in the 4th quarter.
Allen completed 42 of 63 passes for 400 yards and two touchdowns. He also ran for 47 yards and accounted for 80 percent of the Bills offensive production against the Dolphins.
Allen did not appreciate a few things that Dolphins defenders did on Sunday, including something defensive tackle Christian Wilkins, when Allen ripped his helmet off and was called for a personal foul penalty.
Edge rusher Melvin Ingram also had a questionable play, when he tried to kick Allen during a pass rush.
You can watch the video below.
Ingram clearly tries to kick Allen when the ball is getting released, as left tackle Dion Dawkins was pushed back into Allen's blindside.
There's no doubt that the Dolphins tried to get under the Bills' skin and it worked to a degree, as well as the heat, which caused multiple players to cramp up on both teams, but especially Buffalo.
Allen got X-rays after the game on his right hand but according to Allen and head coach Sean McDermott, he will be fine.
Hopefully, safety Jordan Poyer and center Mitch Morse can be back for next week's game in Baltimore against the Ravens, and the injuries suffered today do not linger into week 4.
Four Bills Players Who Could Leave Buffalo in 2023/2024
Four players that Buffalo Bills general manager Brandon Beane will have to make decisions on.
16 Buffalo Bills With Some Of The Best And Worst Nicknames
22 Famous Buffalo Sports Phrases Every Die-Hard Bills and Sabres Fan Knows
Being a sports fan in Buffalo is sometimes like knowing a different language. Here are 22 of our favorite Buffalo sports phrases you already know if you're a huge fan! And if you're new here, here's how to catch up.