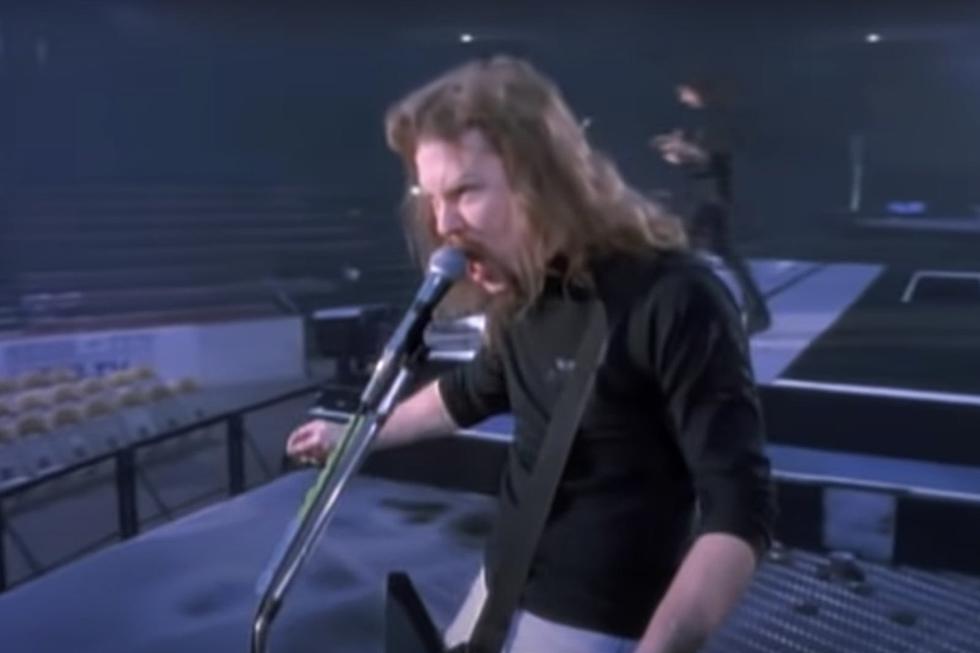 When Metallica Detailed Road Triumphs on 'Wherever I May Roam'
YouTube
By the time Metallica released their eponymous 1991 album, colloquially known as the Black Album, they had logged enough touring miles to employ one of the most time-honored classic rock conventions: the road song, which came in the form of the pummeling single "Wherever I May Roam."
Road songs aren't just written; they're earned through years of grueling interstate drives, faceless hotel rooms, grungy dive bars and empty shows in Podunk towns. These efforts eventually pay off for the artists that stick it out, and road songs often mark the transition from scrappy up-and-comer to world-conquering star. Bob Seger's road song came in 1972 with "Turn the Page," which Metallica would later cover on Garage Inc. Their heroes in Motorhead included "(We Are) The Roadcrew" on their landmark Ace of Spades. Perhaps most famously, Bon Jovi detailed the agonies and ecstasies of the road in pristine, self-mythologizing detail on the Slippery When Wet smash "Wanted Dead or Alive."
While Metallica could not have been more ideologically opposed to Bon Jovi at the dawn of the '90s, they strove to write similarly explosive, larger-than-life rock anthems on the Black Album after pushing their brand of technical thrash to its limit on the knotty ... And Justice for All and its accompanying 13-month Damaged Justice Tour. The Bay Area quartet enlisted producer Bob Rock, who engineered Bon Jovi's Slippery When Wet and New Jersey and produced Motley Crue's chart-topping Dr. Feelgood, and set out on the path to writing the bestselling metal album of all time.
Among the Black Album's embarrassment of stadium-metal riches ("Enter Sandman," "Sad But True," "Nothing Else Matters," et al.), "Wherever I May Roam" stands out for its disarmingly personal lyrics. "One person started complaining about his personal life, and then another person said, 'Well, I'm having problems, too,'" guitarist Kirk Hammett recalled in 1992. "And then a third person said, 'Well, goddamn it, I am, too!' It wasn't something that was influenced by each other at all. And when we were having these problems with our personal lives it made us realize how much of a foundation the band is for us."
Indeed, James Hetfield's lyrics emphasize the fierce kinship the members of Metallica had forged with each other and their fans over nearly a decade on the road. "And the road becomes my bride ... and the Earth becomes my throne," Hetfield growls over cavernous drums and ringing guitar chords at the beginning of each verse. As the band picks up momentum and revs into the chorus, Hetfield opens up and roars, "And I'll redefine anywhere / Anywhere I roam / Where I lay my head is home, yeah!"
Metallica incorporate numerous Eastern-sounding elements into "Wherever I May Roam," as heard on Hammett's electric sitar intro and Phrygian dominant riffing and soloing. The guitarist offsets these meticulous compositions with an off-the-cuff outro solo that fades out with the rest of the track.
"It's totally improvised and spontaneous," Hammett said of the solo years later. "We only did like four or five passes, and what you hear on the record is basically just me improvising. And that was one of my greatest days at the office."
Watch Metallica's 'Wherever I May Roam' Video
Rock knew Metallica had struck gold with "Wherever I May Roam" as well. "Realistically, the guys in Metallica can shit out riffs all day, and half of them will be incredible," he told MusicRadar. "When you hang out with them, though, you start to hear the difference between a great riff and a 'Smoke on the Water'-type riff. Metallica had several on this album, and I'd say this one is pretty high up there."
If anybody could tell the difference between a great Metallica riff and a timeless Metallica riff, it was Rock. "It wasn't a fun, easy record to make," he confessed. "Sure, we had some laughs, but things were difficult. I told the guys when we were done that I'd never work with them again. They felt the same way about me." Of course, otherworldly success to the tune of 16 million U.S. sales has a funny way of making people go back on their word, and Rock went on to produce four successive Metallica albums after the Black Album.
Metallica released "Wherever I May Roam" as the fourth Black Album single on Oct. 19, 1992. By that point, they were approaching the end of the grueling, 224-show Wherever We May Roam Tour, and the song's music video appropriately features the band members rolling down the highway in a tour bus, sound-checking and walking through the bowels of empty arenas, which would be filled to the rafters with tens of thousands of screaming fans just a few hours later.
"Wherever I May Roam" peaked at a modest No. 82 on the Billboard Hot 100 and No. 25 on the Album Rock Tracks chart, but it remains a concert staple and one of the band's most beloved songs. For Hetfield, it also crystalized everything Metallica set out to — and did — achieve with the Black Album.
"I would say when I think of the Black Album, I think of 'Wherever I May Roam' and 'The Unforgiven,'" he told Guitar World. "Those two songs, they kind of tell the story of the times for us, I think. Especially 'The Unforgiven,' which was very vulnerable and very revealing for me. And then 'Wherever I May Roam,' that kind of encapsulated our quest for muscle, our quest for epic-ness and our quest for a solid mid-tempo song that would really get the crowd jumping. So those are the two that really get me."
Rock Star Phobias: What Scares Your Favorite Artists?
Just because they're famous doesn't mean they don't get scared.
Did Metallica Almost Fire Lars Ulrich?