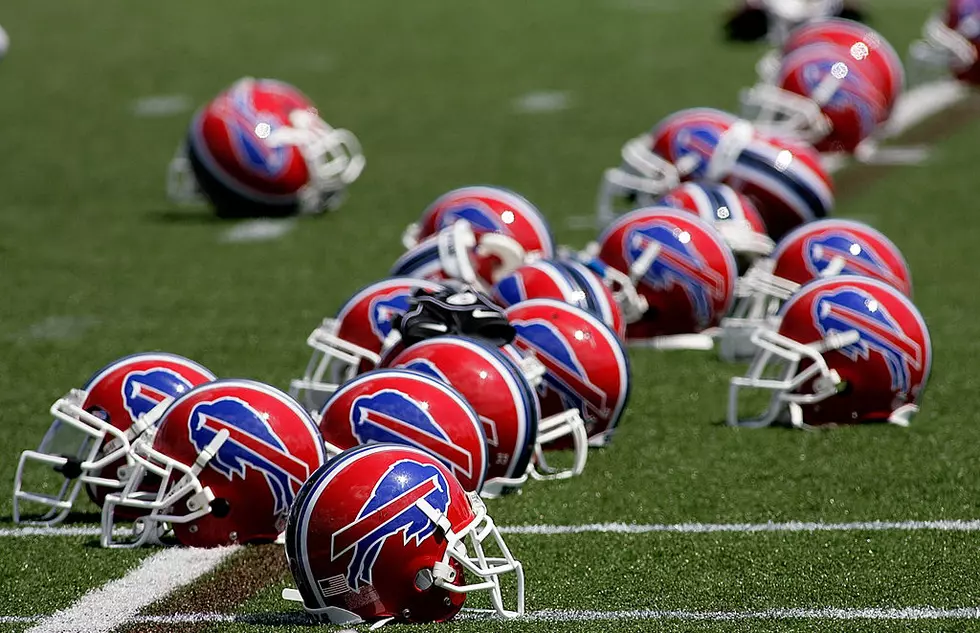 No Throwback Red Helmets For This Years Buffalo Bills?
Getty Images
As we count down the days to the Buffalo Bills 2022 season opener, there is one burning question that the team has yet to answer.  Will they be bringing back the classic 90s red helmets?
The Buffalo Bills changed their primary helmet color to white for the 2011 season, and ever since, the voice of the fans calling for the return to the classic red helmet look of the early 90s glory years has gotten louder and louder.
The team then went and teased us all with this on-fire image of Wide Receiver Stefon Diggs in the red helmet.
It surely was a harbinger of things to come in 2022 right? Then, the National Football League went and revised its single shell policy, allowing teams to use an alternate look for their helmets starting for the 2022 season.  Slowly but surely, alternate helmets and throwback helmets started to surface online as teams made their official announcements.
The Dallas Cowboys will be bringing back their classic white helmet for Thanksgiving Day.
The New England Patriots are bringing back our old enemy "Pat Patriot"
And then, the New York Giants went and released this video, announcing that they would be bringing back the classic Super Bowl XXV uniforms and helmets.
This announcement, most of all, gave Bills fans hope they maybe they too would be bringing back the Super Bowl XXV look.  But then, Adam Schefter tweeted out today that 14 NFL teams would be using Alternate or Throwback helmets this season.
If you count the teams in his tweet (Chicago Bears, Cincinnati Bengals, Arizona Cardinals, Washington Commanders, Dallas Cowboys, Philadelphia Eagles, Jacksonville Jaguars, Carolina Panthers, New Orleans Saints, Houston Texans, Atlanta Falcons, New York Giants, New England Patriots, and the Dallas Cowboys) there are already 14 teams shown.  So does that mean the list is final, and the Bills won't be rolling out the red helmets?
When you look closer, the Dallas Cowboys actually appear on his "alternate" and "Throwback" lists.  So, only 13 of the 14  helmets have actually been revealed.  There is still one more to go, but the odds of it being the Buffalo Bills are shrinking.
Buffalo Bills Training Camp - 2022
Buffalo Bills 2022 Week by Week Schedule
Buffalo Bills Mandatory Mini-Camp