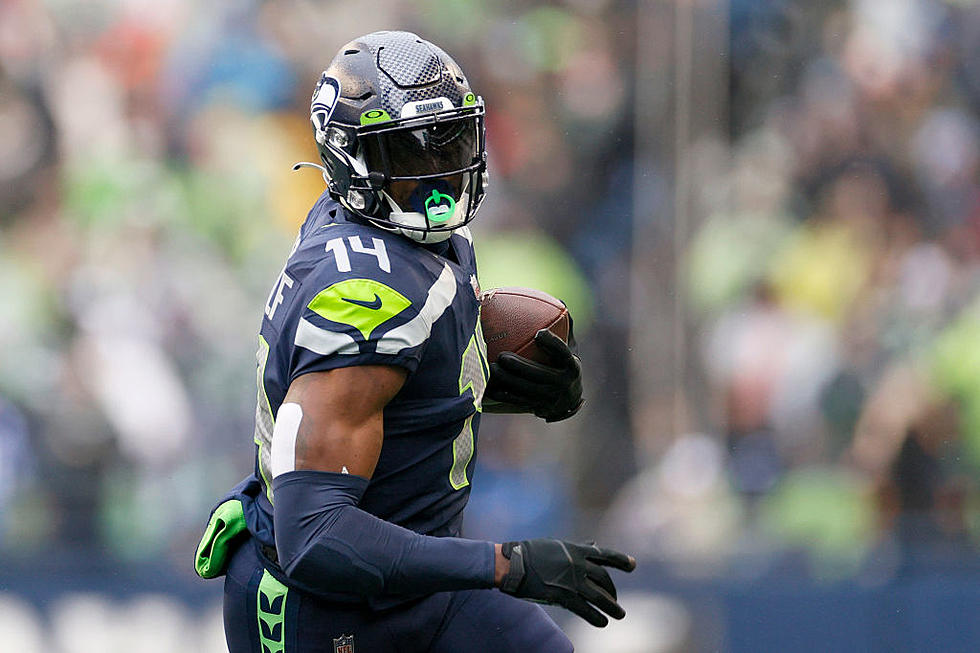 Could DK Metcalf Be on the Way To Buffalo
Getty Images
The NFL Offseason Exploded this week with the news that the Seattle Seahawks had traded their All-Pro Quarterback Russell Wilson to the Denver Broncos.
The trade made things much more competitive, in the already competitive AFC. But what it also did, is throw the Seahawks into full-on rebuilding mode. They are now armed with two 1st round picks courtesy of the Broncos.  Could it be that they are looking for more draft capital?
When you take a look at the Buffalo Bills roster, it's pretty obvious that the team is built to be a championship contender.  But what if we told you that there is an All-Pro wide receiver that might be available via trade...would you be interested?
The Bills receiving corps are led by an All-Pro already in Stephon Diggs, who put up 103 catches, good for 1,225 yards and 10 touchdowns. But, according to a Tweet by Michael-Shawn Dugar of The Athletic, there is a Wide Reciever that put up a similar stat line of 75 catches for 967 yards, and 12 TDs that could potentially be had for a 1st round draft pick.
Could it be true that DK Metcalf is available via trade? If so, it is an interesting option for Buffalo to consider. The former 2nd Round Pick of the Seattle Seahawks has been unworldly since he came into the league in 2019 amassing 216 catches for 3,170 yards and 29 TDs in his 3 NFL seasons.  At 6'4" and 235lbs, he would most definitely make for an enticing Red Zone target for Josh Allen.  Could you imagine the Bills Offense with Diggs on one side, Metcalf on the other, ad Dawson Knox wreaking havoc over the middle?
This would be the kind of "Big Splash" move that some are speculating that the Bills could make to ease taxpayers' minds, with a new stadium deal on the horizon.
The Bills could potentially lose both Emanuel Sanders and Isaiah McKenzie to free agency.  Plus the team has granted slot WR Cole Beasly to seak a trade, with the possibility that he could also become a salary-cap cut casualty.  This would leave the team thin at WR with Diggs and playoff standout Gabriel Davis as the unit's only proven players.
The question then becomes, would you trade the Bills' first-round pick, which is 25th overall, for DK Metcalf?  And, would that be enough to get him out of Seattle?
These Are the Best Buffalo Bills Fantasy Team Names
8 Famous Buffalo Bills in another teams Uniform
Highmark Stadium Through the Years